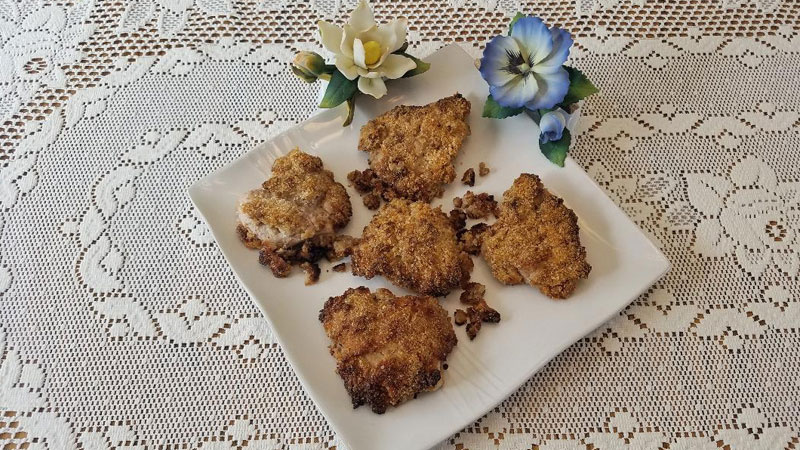 Dear Cook, not only do dry goods have a shelf-life, frozen food does as well. That being true, New Year's Eve was our countdown for living off, not the land, but our freezer. It was time to bite the bullet, bite into the various, nearly freezer-burned meats, fruits, and vegetable before it was too late, perhaps it was already.
After more than two months had passed, we had made use of enough frozen food, that a twelve-pack of chicken breasts was exposed. The-Week-of-the Chicken was upon us, but I would need to find some way to cover the too-long-in-the-freezer taste. And, guess what? To my husband's pleasure, I did! The secret was walnuts. Perfecto!
For a printed copy, with or without photo, click green dot on left side at the bottom of this page.
If you would like a Monday reminder, and quick link, in your email to next week's post, just sign-in at the secure registry at the top of this page, and click GO. For a private conversation, please write your message on the Contact page found at the right on the Home Page.

| | | |
| --- | --- | --- |
| Walnut Crusted Chicken | | Print |
Ingredients
6 boneless, skinless, chicken breasts
1 cup Miracle Whip
½ cup Parmesan
1 & ½ cup coarsely, chopped walnuts
½ cup Italian bread crumbs
Instructions
Mix together Miracle Whip, Parmesan and walnuts.
Spray edged-baking sheet with cooking oil.
Pound breasts to ½ inch thickness.
Place chicken on baking sheet - one inch apart.
Spread mixture evenly over chicken breasts.
Sprinkle bread crumbs evenly over chicken breasts.
Bake, uncovered, at 425 for 25 minutes, or more.