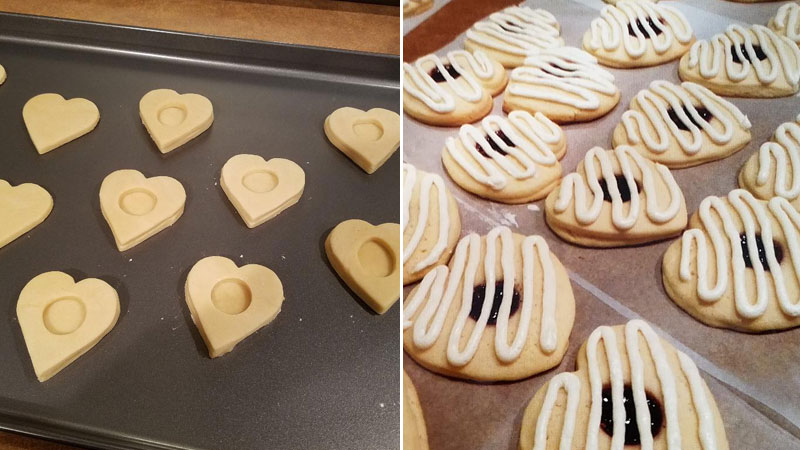 Dear Baker, at least two things are necessary for yummy tasting sugar cookies. One, they must be fresh…no leaving them sitting on the counter overnight. No. Freeze them in an air tight container, and remove from the freezer shortly before serving.
Two, only bake them until they are almost baked. Remove them from the oven soon enough that they finish baking from the heat in the cookie sheet. The bottom of the cookies should have next to no brownish tones. Yeah, I know, fussy, fussy, but mmm so good.
After chilling the dough for 3 plus hours, usually overnight, I keep the remaining cookie dough chilled while preparing a tray to bake. By this I mean, I only remove enough dough from the refrigerator for each separate roll out. If the dough is not cold it easily rolls out too thin, and the cookies bake crisp instead of soft. I lean toward a thick roll out – a bit over 1/8 inch, but not quite 1/4th.
I have a double batch in the freezer – without frosting on them. I ran out of time, it was 7:30 pm, Ron was ready to play Gin Rummy. So, I will frost them just before serving. Perhaps that will make them even tastier? It certainly makes them easier to stack for freezing!
The cookie dough recipe comes from the old Betty Crocker Cookbook which I was given at a church wedding shower in 1964. The cookbook has long been spotted with oily smudges from A to Z. The idea for making a filled raspberry sugar cookie came from my sister.
For a printed copy, with or without photo, click green dot on left side at the bottom of this page.
If you would like a Monday reminder, and quick link, in your email to next week's post, just sign-in at the secure registry at the top of this page, and click GO. For a private conversation, please write your message on the Contact page found at the right on the Home Page.

| | | |
| --- | --- | --- |
| Heart-Shaped Raspberry Sugar Cookies | | Print |
Author:
Betty Crocker Cookbook
Ingredients
¾ cup shortening - part butter, softened (I used half of each.)
1 cup sugar
2 eggs
1 teaspoon vanilla
2 & ½ cups all-purpose flour*
1 teaspoon baking powder
1 teaspoon salt
Raspberry Jam with the seeds
*If using self-rising flour, omit baking powder and salt.
Instructions
Mix thoroughly shortening, sugar, eggs and flavoring.
Blend in flour baking powder and salt.
Cover; chill at least 1 hour. (I chill it 3 hours to overnight.)
Heat oven to 400 degrees.
On a lightly floured surface, roll dough ⅛ inch thick.
(I roll mine just slight of ¼ inch thick.)
Cut into heart shapes.
Cut a hole in the center of ½ of the hearts.
Place the hole-less heart on an ungreased baking sheet.
Top that cookie with the center cut hearts.
Fill hole with raspberry jam - to slightly mounded.
Bake 8 to 10 or more minutes - watch carefully.
Baking time will vary due to oven and thickness of cookies.
You may benefit from baking a practice cookie.