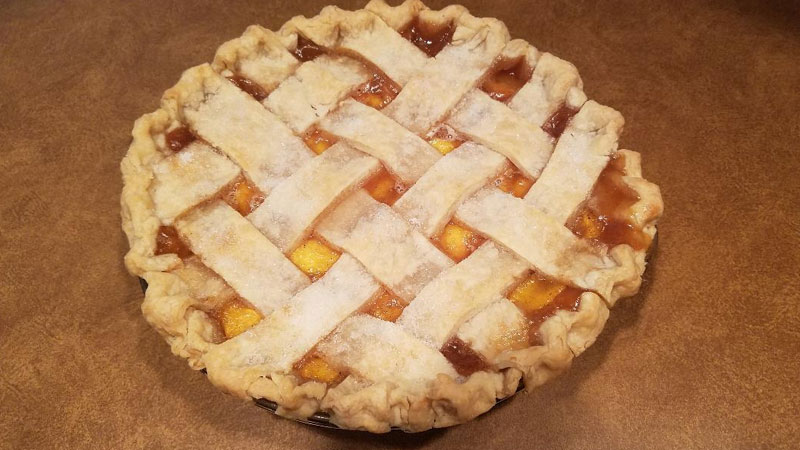 Dear Cook, we enjoy local fresh peaches in late August and into September. When time allows, I like to can them in quart jars, but usually I just freeze them with a little Fruit Fresh to keep them from turning brown while thawing out.
A peach pie with fresh or frozen peaches is such a treat, but often my pies made from frozen peaches are too juicy. After coming across a recipe which starts out with draining peaches in a sieve,* using only ¼ cup of the reserved juice in the pie filling – my problem was solved. The rest of the recipe was not to our liking, so I still use my old Betty Crocker recipe to finish getting the pie ready for the oven.
I like a thick peach pie, so I use 6 cups of peaches. No, it is not necessary, four or five cups works well, but ingredient amounts would need to be adjusted. The amount of flour is the key to serving an attractive and tasty slice. Too little you have a mess, too much and it is disgustingly thick. Be sure to level off your flour measurement.
*Three suggestions:
1. You might like to freeze the peach juice in a freezer bag, and use it for making punch. My most recent punch was a mixture of leftover, lemon, lime, orange, and peach juice combined with Seven-Up. Oh, and if you are pitting tart cherries, you might like to save that juice too. Mixed with 7-Up, it makes an excellent tart punch.
2. Just before serving, slightly warm individual slices of the pie on defrost for ten-seconds in the microwave. A hint of warmth brings out the peachy flavor, but too much microwave heat can ruin the crust.
3. When making nine-inch pies, you might like to make dough for a ten-inch. I like to have plenty of dough to work with, and I enjoy freezing the bit of leftover for making Ron a single scrap-fruit-wrap. In fact, I am making him one today; it will be apple with a tiny bit of drizzled frosting on the top. For I have a smidgen of leftover frosting in the freezer too! Yeah, I love the kitchen!

Ingredients
Pastry for two-crust pie.
6 cups of frozen, but well thawed, sliced peaches.
1 teaspoon lemon juice or 2 & ½ teaspoons Fruit Fresh.
1 & ¾ cups sugar.
⅓ cup all-purpose flour - level measurement. Too juicy, add ½ (plus?) tablespoons next time.
¼ teaspoon cinnamon
3 tablespoon butter
Instructions
I use a 9-inch pie plate for a thick 6-cup peach pie.
It may overflow, so set a large piece of foil on rack below to catch drips.
If not already added, add either 2 & ½ teaspoons of Fruit Fresh or a teaspoon of lemon juice to 6 cups of sliced peaches.
Spoon into a sieve, and let stand until juices no longer drip.
Reserve ¼ cup of peach juice.
Prepare pastry.
Heat over to 425.
Stir together sugar, flour and cinnamon; mix with peaches.
Stir in reserved ¼th cup of peach juice.
Turn into pastry-lined pie pan.
Dot with butter.
Cover with lattice or full crust which has slits cut in it.
Seal and flute.
Cover edge with 2 to 3-inch strip of aluminum foil to prevent excessive browning.
Remove foil the last 15 minutes of baking.
A lengthy cooling time is necessary for this pie to set up well.
For a
printed copy
, with or without photo,
click green dot
on left side at the bottom of this page.
If you would like a Monday reminder, and quick link, in your email to next week's post, just sign-in at the secure registry at the top of this page, and click GO. For a private conversation, please write your message on the Contact page found at the right on Home page.