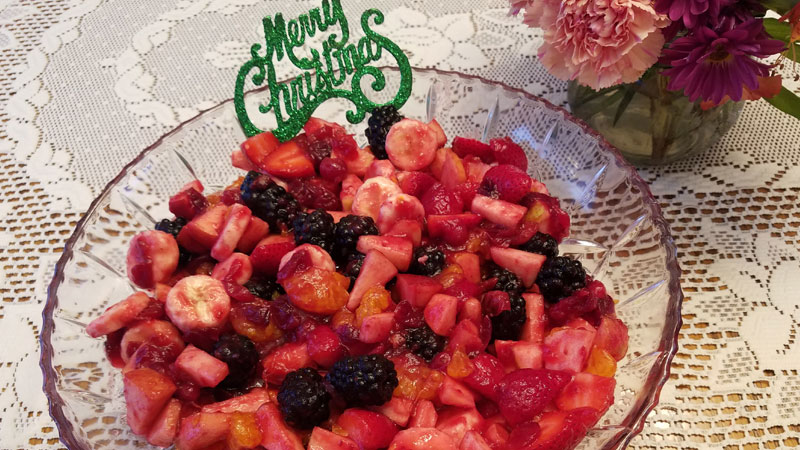 Dear Cook, it is said, "Don't judge a book by its cover." I'd like to add to that, "Don't judge a salad by my picture." When I took this picture, I still had a few things to learn about the recipe.
When I read about this recipe in a Taste of Home magazine, I became very interested in the fact that the dressing for the salad was made by cooking sugar, water, and fresh cranberries until the cranberries popped. Hmm. I think I've gotta try this.
Pardon me. I just stepped away from writing this to take a call from our youngest son, who is not young anymore. He asked if I was in my laboratory conjuring up new things to eat for Christmas? I replied that I was considering making a BBQ sauce for our baby-back ribs made from rutabagas. Don't believe that, for neither did he.
Although the recipe said to, I did not use the liquid from a can of mandarin oranges. I thought 'undrained' was a typo, but no, the salad needed the liquid, for the dressing was too thick. The day after serving the salad, the leftover salad was more attractive. While sitting, the dressing got juicier, creating a shiny coating for the fruit.
From now on, I will make the salad a day ahead, but will not add the bananas until time to serve it. And before putting the leftovers away, I will remove the bananas. They quickly turn brown.
The salad is tangy – a cranberry tartness. It is not the type that kids will likely heap on their plates, but a small amount, in my opinion, compliments a holiday meal very nicely. As of yet, I do not know which we will serve for Christmas, Cranberry Raspberry Salad, or today's recipe.
For a printed copy, with or without photo, click green dot on left side at the bottom of this page.
If you would like a Monday reminder, and quick link, in your email to next week's post, just sign-in at the secure registry at the top of this page, and click GO. For a private conversation, please write your message on the Contact page found at the right on Home page.

| | | |
| --- | --- | --- |
| Festive Cranberry Fruit Salad | | Print |
Author:
Courtesy of Taste of Home, tasteofhome.com
Ingredients
1 pkg. (12 oz.) fresh or frozen cranberries (I used fresh.)
¾ cup water
½ cup sugar
5 medium apples, diced (Next time I will cut very tiny.)
2 medium firm bananas, sliced (I sliced ¼ inch)
1 & ½ cups fresh or frozen blueberries, thawed (I'd use fresh.)
1 can (11 oz.) mandarin oranges, undrained.
1 cup fresh or frozen raspberries, thawed (I'd use fresh.)
¾ cup fresh strawberries, halved.
Instructions
In a large saucepan, combine the cranberries, water and sugar.
Cook and stir over medium heat until berries pop, about 15 minutes.
Remove from the heat: cool slightly.
In a bowl, combine the remaining ingredients.
Add cranberry mixture, stir gently.
Refrigerate until serving. (Next time I will cool for 5 to 6 hours, and gently stir.)