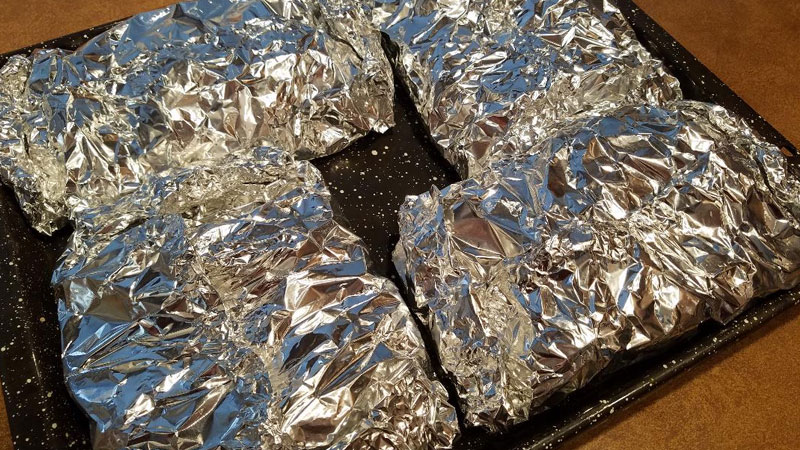 Dear Cook, this is a ground beef and vegetable meal that Ron and I first made while camping.  It cooks nicely over hot coals. We haven't camped for several years, so we make it at home in the oven.
It was a favorite of our 'easy' meals, but one we never made for guests – until just lately. When we did, our guests enjoyed it as much as we did. Not a morsel was left in any of the foil wraps, and the portions, as usual, were larger than we had intended.
Somehow, as hard as we try, once Ron and I get started forming the beef patties, or slicing the onions, carrots, potatoes, or rutabagas (optional), we always end up with more than we planned to make. At that point we tell ourselves that we will save a portion for the next day's lunch…but does that happen? No. It is just too delicious! Why is it? I really don't know. So many entrées are a lot more work, but few are tastier.
Oh, for this meal – beef with 20% fat is absolutely necessary. If you find that you only have lean, add 2 teaspoons of melted bacon fat and spread it over the beef and vegetables. Also, be sure to thoroughly salt and pepper the beef and vegetables. One more thing, start with full size carrots, not the small prepared ones. They are not as flavorful as the others. Enjoy!
For a printed copy, with or without photo, click green dot on left side at the bottom of this page.
If you would like a Monday reminder, and quick link, in your email to next week's post, just sign-in at the secure registry at the top of this page, and click GO. For a private conversation, please write your message on the Contact page found at the right on the Home page.

Ingredients
For each serving:
Beef patty, 20% fat - 6 ounces
Onion - ½ of large - ¼ inch slices
Large raw carrots - ¾ to 1 cup - ¼ inch slices
Potato - ¾ to 1 cup - ¼ inch slices
Optional - rutabaga - ¼ inch slices
Instructions
Place large piece of aluminum foil on the counter.
Shape beef patty, salt and pepper, place on center of foil.
Slice onion, and spread over patty.
Slice carrots, potato, and rutabaga (if desired).
Salt and pepper, and spread over patty and onion.
If meat is lean, add 2 teaspoons melted bacon fat.
Tightly wrap foil from long sides, then from short sides.
Place on edged baking sheet, wrap may leak.
Bake at 350 for 60 to 75 minutes or until veggies are tender.