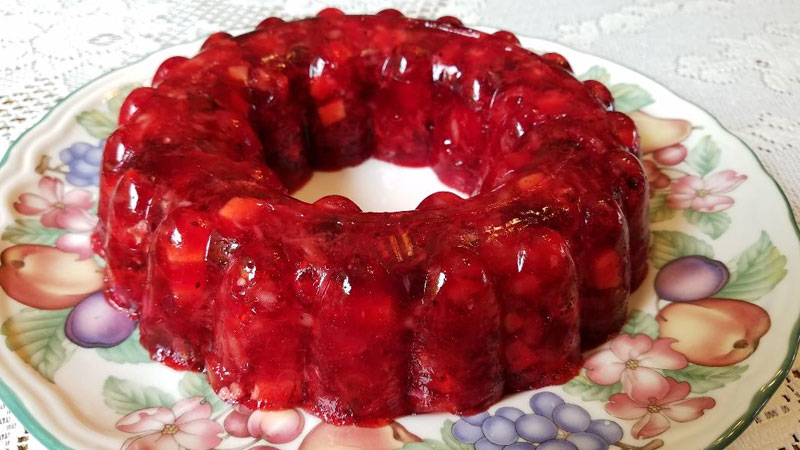 Dear Cook or Baker, sometimes when we have a gelatin salad leftover from a company meal, I end up having to throw the very last of it away. It has not happened with this salad. In fact, I think Ron and I secretly wonder which of us will be lucky enough to eat the last serving. This past week, I wanted the little bit that was left, but I restrained myself so that Ron could finish it off. Aren't I sweet…hmm… well … maybe…sometimes.
In 2014, a friend brought this salad to our Daily Dozen Prayer Ministry Brunch. We enjoy a meal together a few times a year.
One last thing, I rarely make a molded salad out of this recipe, but for reasons unknown, I did last week. Either way, molded or in a serving bowl, the salad looks almost as good as it tastes. Enjoy!
For a printed copy, with or without photo, click green dot on left side at the bottom of this page.
If you would like a Monday reminder, and quick link, in your email to next week's post, just sign-in at the secure registry at the top of this page, and click GO. For a private conversation, please write your message on the Contact page found at the right on the Home page.

| | | |
| --- | --- | --- |
| Festive Pineapple Cranberry Salad | | Print |
Author:
Received from Lori Scott
Ingredients
20 oz. crushed pineapple, reserve the juice
6 oz Raspberry Jell-O
16 oz whole berry cranberry sauce
1 apple, chopped fine
⅔ cup chopped walnuts
Instructions
Drain pineapple, reserving juice.
Add enough cold water to juice to measure 3 cups.
Pour into saucepan.
Bring to boil; remove from heat.
Add dry gelatin mix; stir 2 minutes.
Stir in cranberry sauce.
Pour into large bowl.
Refrigerate 1 & ½ hours or until slightly thickened.
STIR in pineapple, apples and walnuts.
Refrigerate 4 hours (overnight if using a gelatin mold) or until firm.
Makes 14 servings, ½ cup each.