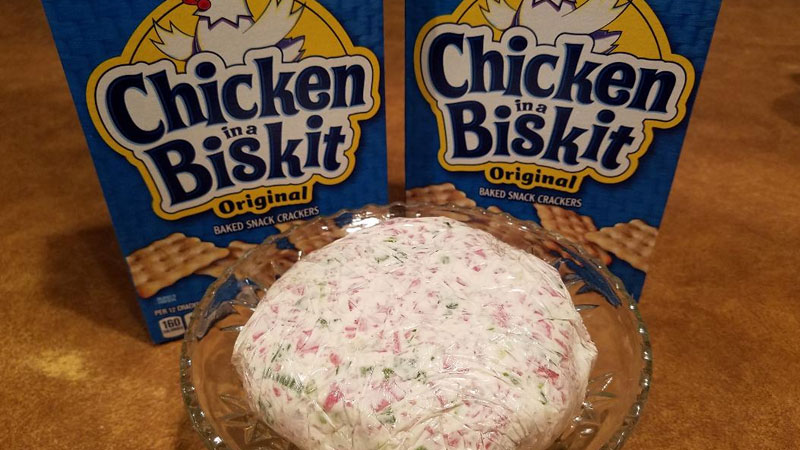 Dear Cook or Baker, you most likely have recipes from dear friends and relatives who have passed away. Isn't it especially pleasing to cook from their favorite recipes? This cheese ball recipe, from my Aunt Darlene, is one of those.
Aunt Darlene and Uncle Leon loved us, and we loved them. Every November my aunt sent to our home a candy count-down calendar for Christmas for each of our five children. She carefully picked out the candy included in the annual gifts. On top of that, in the summer, my aunt and uncle would invite all seven of us to stay the weekend in their home. They had a pool which seemed as big as an ocean to our small children.
So while I cut the dried beef and scallions up fine – just like my Aunt Darlene, I think of her, and every thought is good. At too young of an age, she died of cancer. After many, many years, her absence is still felt. For she loved. She expressed her love, not in words, but in kindnesses, kindnesses which are long remembered.
I have never made less than a double-sized cheese ball, and often have tripled the recipe. People really LIKE it. I remove it from the refrigerator long before serving. It spreads much better near room temperature. Others would argue with me, but I believe for this recipe the best complementary cracker on the market is Chicken in a Biskit Original Cracker. For a double batch I buy two of the family size boxes. It is a shame to run out of crackers while there is still some cheese ball left.
Oh, one more thing, I have been curious how well this cheese ball might freeze. So after having kept one in the freezer for about a month, we gave it a try while shooting off Fourth of July fireworks. It was terrible! The texture was the killer, I threw the ugly mess away, but I didn't consider it a complete waste – for I learned something.

| | | |
| --- | --- | --- |
| Aunt Darlene's Cheese Ball | | Print |
Ingredients
8 ounces of cream cheese - softened
4 drops of Worcestershire sauce
3 scallions (onions with the greens) cut fine
3 ounces of smoked dried beef (found with the lunch meat), cut into very small pieces
Instructions
Beat softened cream cheese and sauce until nicely whipped.
By hand stir in onions and beef.
Refrigerate for five hours or overnight.
Serve at nearly room temperature.
DO NOT soften in the microwave.
Serve with PLENTY of Chicken in a Biskit Original Crackers.