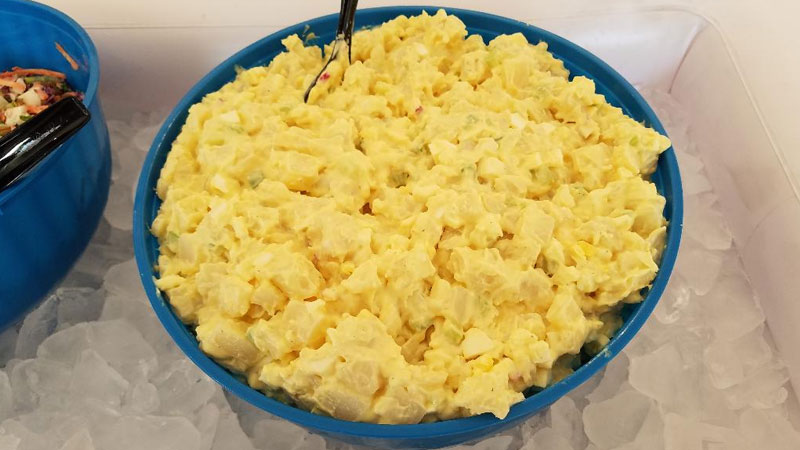 Dear Cook or Baker, a few summers ago, I made four gallons of potato salad for our grandson's open house. If my mother was alive, she would probably have helped me. And she would have been happy to do it…very happy. Cooking was her love language, and she spoke it well…very well.
For Mother, there were no unimportant details in the recipes she had honed. I did my best to make the salad just as she had. Potatoes were removed from salted, boiling water when they were tender, but firm, not mushy. They were cut, as close as possible, into one-half inch squares. All else, eggs, onions, crisp celery and radishes were finely cut. As I worked through the recipe, I enjoyed warm memories of Dad neatly packing Mother's love offerings into the trunk of his big car. His car was always big. We would soon be on our way to Rose Lake, Lake City, or to my Uncle Leon's for a family reunion. One sweet memory was the 'question' which relatives always asked. "Which dishes on the serving table are the ones Dorothy, or Aunt Dorothy, made this year? Mother always brought more dishes than anyone else, and there were few, if any, leftovers to take home.
Helpful Hint: Older eggs peel much easier than fresh. I purchase enough eggs ahead so that there are at least a dozen or two aged for boiling… especially in the summer for deviled eggs, egg salad sandwiches, and of course, potato salad. Enjoy!
For a printed copy, with or without photo, click green dot on left side at the bottom of this page.
If you would like a Monday reminder, and quick link, in your email to next week's post, just sign-in at the secure registry at the top of this page, and click GO. For a private conversation, please write your message on the Contact page found at the right on the Home page.

Author:
Dorothy Kenyon Box
Ingredients
10 hard boiled eggs, finely cut
5 pounds peeled Russet potatoes (boiled with salt) cut into small cubes
2 tablespoons mustard
2 tablespoons vinegar
1 tablespoon sugar
2 plus cups of Miracle Whip, not lite, no substitutes
1 cup celery, finely cut
1 large onion, finely cut
salt and pepper to taste, will need a good amount
radishes optional, finely cut (I used a heaping ¼ cup.)
Instructions
On medium low heat bring eggs to a boil.
Turn off heat, let set 15 minutes.
Cool eggs completely.
Make dressing of mustard, vinegar, sugar, salt, pepper and Miracle Whip.
For Mom's recipe, use only Miracle Whip, not lite, no substitutes. 🙂
Dressing will need a good amount of salt and pepper.
Refrigerate dressing.
Finely cut celery, onion and radishes. Set aside.
Cut potatoes in half, lengthwise, try to have uniform size.
Boil in heavily salted water.
Boil until just tender-firm, drain IMMEDIATELY..
As soon as potatoes are cold, cut into cubes.
If potatoes set long they start to turn brown.
Quickly add vegetables, and dressing.
Taste for flavor, Add salt and pepper if needed.
Refrigerate 6 hours or overnight. (I prefer overnight)
Will keep five days in refrigerator.
Makes 4 quarts. Serves 21