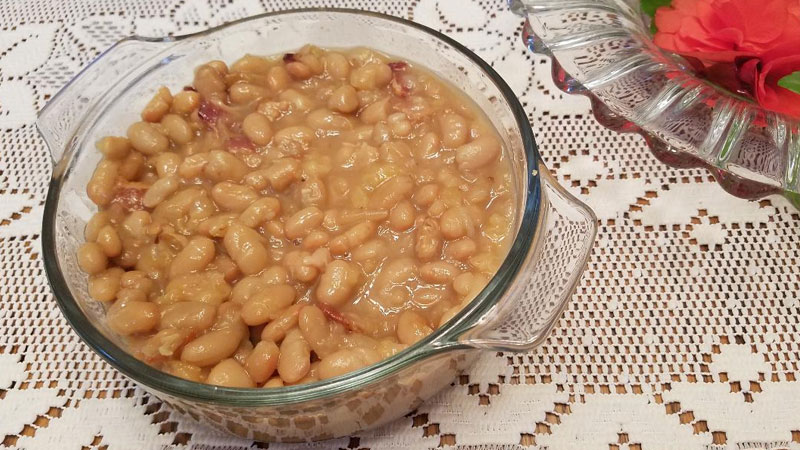 A few weeks ago, while grocery shopping, I ran into a couple from our church. When I was an elder-greeter, I got to know them well. Ever since then we have enjoyed running into each other. While catching up, I noticed that they had a jar of Randell Great Northern Beans in their grocery cart. Since I like the beans, and only have two recipes for them, I asked, "What do you do with your beans?"
We must all be cooks, for we excitedly began talking baked beans. I learned that their kids grew up enjoying their mother's recipe. The couple would be taking a large amount downstate for their next family gathering.
Between the two of them they gave me the recipe from memory. I was advised that it might not be wise to tell anyone that the recipe took a small can of pineapple. Apparently their kids do not like pineapple. They told me that if I didn't tell anyone no one would notice. They were right.
So, as I continued shopping I picked up all the ingredients needed. And the very next time I prepared a company meal, I used their recipe. My only problem was that they needed to bake longer than just one hour. I like beans to come from the oven thickly coated, and these were a bit runny. So next time, I will bake them two-and a-half to three hours, probably three. Also, I didn't have enough bacon to cover the top of the beans. On my second try, I will top the dish with bacon and bake it until thick, but not dry. If dry, stirring in a very small amount of water will take care of the problem.
My friends did not have a name for their beans, so I have named them No Name Baked Beans.
For a printed copy, with or without photo, click green dot on left side at the bottom of this page.
If you would like a Monday reminder, and quick link, in your email to next week's post, just sign-in at the secure registry at the top of this page, and click GO. For a private conversation, please write your message on the Contact page found at the right on the Home page.

| | | |
| --- | --- | --- |
| No Name Baked Beans | | Print |
Author:
Friends from Church
Ingredients
48 ounce jar of Great Northern Randall Beans
24 ounce jar of Great Northern Randall Beans
½ pound bacon cut in ½ inch pieces, fried slightly
⅓ cup raw onion, chopped
1 cup brown sugar
8 ounce can crushed pineapple, not drained.
Instructions
Fry bacon until nearly done.
In a three quart baking dish mix beans, bacon, onion, brown sugar, and pineapple with juice.
Bake at 350 for 1 hour or more. (For me, I will bake this recipe 2.5 hours, perhaps 3.)