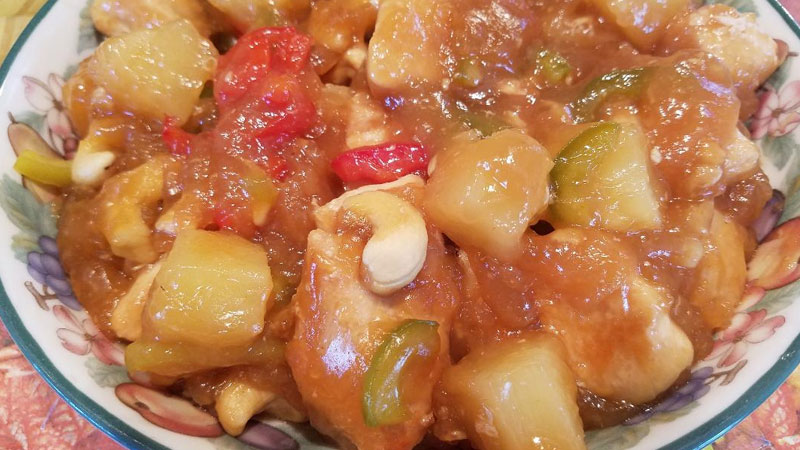 NEW POST – This recipe has undergone several transitions. I think I finally have made a very convenient recipe from that of the original. Actually, I never made the original, its been in transition ever since I first read it.
The original recipe came out of the Taste of Home Magazine, a magazine which I have often mentioned. The original is baked in the oven with whole chicken pieces – legs, thighs, and breasts. You can find that recipe on their site. For our family use, I changed the recipe up a bit, without sacrificing flavor, for the flavored is excellent.
I usually place a hot dish of Pineapple Pepper Chicken (with small pieces of chicken) on the table to be spooned over individual helpings of white rice. But sometimes, I serve palm size chicken pieces in the sauce for a stand alone entrée with a side of Make Ahead Potatoes.
For a quick, last minute, company meal, make the sauce ahead of time and freeze it. And also freeze raw chicken pieces, and julienned peppers (Yes, fresh are better.). With canned pineapple, cashews, and a bag of rice in the pantry you can have this meal together in no time. For an almost instant dessert make a fruit cobbler from Bisquick (add 2 tablespoons of sugar to the biscuit mix). Drop the biscuits over a can of hot cherry pie filling and bake until the biscuits in the middle of the baking dish are done. If we plan ahead, it is easy to invite unexpected guests to remain for dinner!
For a printed copy, with or without photo, click green dot on left side at the bottom of this page.
If you would like a Monday reminder, and quick link, in your email to next week's post, just sign-in at the secure registry at the top of this page, and click GO. For a private conversation, please write your message on the Contact page found at the For a printed copy, with or without photo, click green dot on left side at the bottom of this page.

| | | |
| --- | --- | --- |
| Pineapple Pepper Chicken | | Print |
Author:
Original Courtesy Taste of Home, tasteofhome.com
Ingredients
4 cups unsweetened pineapple juice
2 & ½ cups sugar
2 cups vinegar
1 & ½ cups water
1 cup packed brown sugar
1 & ⅓ cup cornstarch
½ cup ketchup
6 tablespoons soy sauce
2 teaspoons chicken bouillon granules
¾ teaspoon ground ginger
6 lbs. boneless skinless chicken - thawed
If serving over rice, cut chicken into small pieces
If serving as meat entrée slice chicken in palm size pieces.
2 cans (8 ounces each) pineapple chunks, drained
1 medium green pepper, julienned
1 medium red pepper, not hot.
1 to 2 cups large cashews
Instructions
In a saucepan, combine the first 10 ingredients.
Stir until smooth.
Bring to a boil; cook and stir until nicely thickened.
Set aside.
Stir fry chicken in a stick-less pan with 2 tablespoons of olive oil on med-high heat.
Brown lightly - do not over cook or it will be dry and tasteless.
Add peppers to sauce, and reheat.
Five minutes before serving, add the meat and drained pineapple.
Bring to warm.
After placing in serving dish, sprinkle with cashews.
Serve rice separately.
Over rice, feeds 15 to 20.