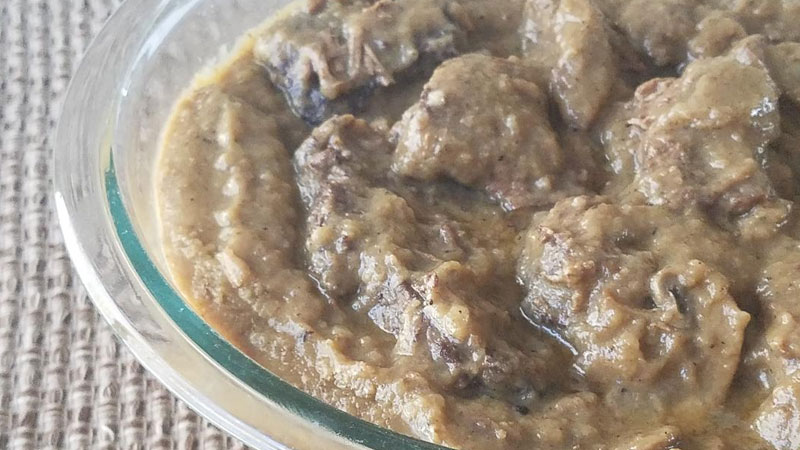 My Mother made Swiss Steak with Brown Gravy often. She either made it the-day-ahead, or froze it for a company entrée to use during busy times. I have never served it the same day that I made it. It is time consuming, and messy. Oh, the greasy stove top! Sometimes Mother added a touch of Kitchen Bouquet, which is now difficult to find. I have some, but did not use it this time. It gives the entrée a richer color and strengthens the flavor some.
For a deep, rich flavor, be sure to save every scrap of fat and odd meat pieces that you cut from your bottom- round roasts. Oh, and slice your steaks just a bit over an inch thick. If your butcher is cutting your meat, have him save the fat and bits for you to take home.
At home, on the stove top, in a heavy pan, sear all the fat and discarded meat pieces until dark brown, but NOT burnt. Cover the scrap meat and drippings with water. Simmer without covering for maybe an hour or two. When more water is needed add just enough to cover. You can do this while preparing the steaks. When it comes time to simmer the steaks, remove the seared fat and scrap meat from the pan. With the water still in the pan, scrape the bottom and sides of the pan to gather every smidgen of flavor. Strain into the Swiss Steak pot, and add enough water to cover the meat, maybe by a half-an-inch. As the meat simmers, additional water will be needed.
To reheat Swiss Steak, heat it in a low oven for an hour or so. Then put it on low heat on top of the stove, and carefully move the steak around, scraping the bottom. Do this gently for the steak is tender and will easily fall apart. The goal is pieces of steak, not shredded meat.
When reheating, the gravy might appear lumpy (in the picture the meat was cold, and gravy lumpy, though some lumps were actually mushrooms.), but as it heats it smooths out…usually. As a side, for this meal, a heaping bowl of buttery, mashed potatoes is a must.
Beef bottom-round is my favorite cut for Swiss Steak. It provides great flavor. It is seldom on sale, when it is I get some for the freezer. Plan on ¾ pound per person. Some guests will eat up what, before simmering, was a half-a-pound, and others will eat what had been an entire pound. During preparation the meat shrinks more than one would expect.

| | | |
| --- | --- | --- |
| Swiss Steak with Brown Gravy | | Print |
Author:
Dorothy Kenyon Box
Ingredients
3 tablespoons butter
1 & ¼ cup chopped onions
8 ounces fresh, thinly sliced mushrooms
3 pounds - full 1 inch thick - bottom round steak
(I purchase ¾ pound per guest. It shrinks.)
½ cup flour
¾ teaspoon salt
½ teaspoon black pepper
3 tablespoons shortening
Water- just to cover
6 to 8 servings
Instructions
In butter sauté chopped onions and sliced fresh mushrooms.
Place into a 4 quart, or larger Dutch oven or roaster.
Cut meat into serving pieces. (Read info on using the fat.)
Mix flour, salt, and pepper.
Sprinkle one side of meat with half the flour; pound in.
Turn meat and pound in remaining flour.
Add small amount of oil in a cast iron, or electric fry pan.
Hotly brown single layers of steak pieces in shortening.
Turn each piece once, the goal is for a quick deep browning.
With tongs, remove steak and place in Dutch oven.
With heat off, pour a little water into the bottom of the fry pan.
Scrape up every remaining particle.
Add to the Dutch oven.
If there is more steak, clean fry pan and start over.
Add just enough water to cover the meat.
Add salt and pepper if needed.
Cover and low-simmer until tender, 2 to 4, or more hours.
Keep meat just covered with liquid.
Very gently scrape bottom of pan and move meat around.
When tender, if the gravy is thin, remove meat.
Thicken gravy with flour base. Return meat.
The gravy should be tasty.
I always make this a day ahead.