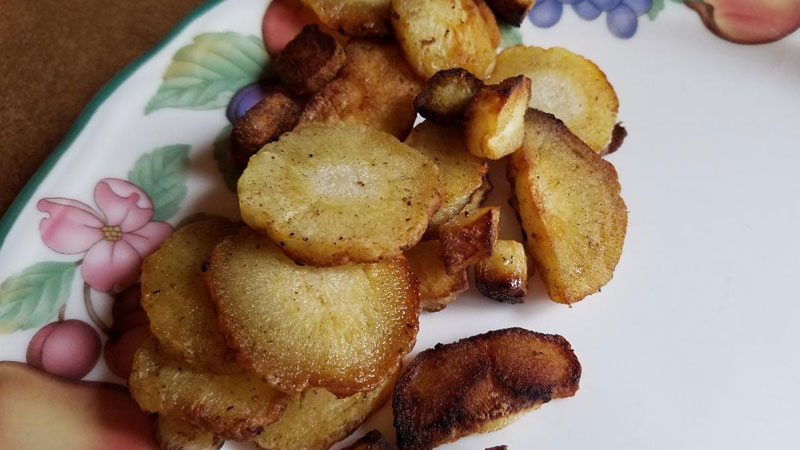 If you haven't tasted spring parsnips, I don't think you can image their unique sweet flavor. Because parsnips do not grow very well in our garden soil, we only harvest enough for about four or five meals. Although my husband is a life-long gardener, he hasn't yet figured out how to increase the yield. He plants plenty of seeds, but few sprout.
In the spring, Ron brings from the garden just enough parsnips to make a serving for the two of us. The vegetable is cream colored, and shaped like a short, fat carrot. He slices them between thick and thin, stirs them up in oil, salt and peppers them, places them on a cookie sheet, and bakes them.
Parsnips are planted in the spring, can be picked late summer, but for the best possible taste they are left in the ground until the following spring. I think the design is God's way of providing great taste when the root cellar supply of apples, carrots, potatoes, rutabagas, and squash have gotten old and spongy.
The recipe I cite is Ron's. He so enjoys preparing them. After a long winter in northwest lower Michigan, he cannot wait to get out to the garden again. Because our garden is open to the north wind, and backed by woods, snow remains long after any other traces of it can be seen. I'm sure that some spring I will look out toward the garden and find Ron taking a blowtorch to the snow!
For a printed copy, with or without photo, click green dot on left side at the bottom of this page.
If you would like a Monday reminder, and quick link, in your email to next week's post, just sign-in at the secure registry at the top of this page, and click GO. For a private conversation, please write your message on the Contact page found at the right on the Home page.

Ingredients
Parsnips, peeled, and sliced just slight of ¼ inch
Small amount of olive oil
Salt and pepper
Instructions
Heat oven to 400.
Place sliced parsnips in bowl.
Cover with thin coating of olive oil.
Salt and pepper.
Place single spaced on a cookie sheet.
Bake 15 minutes.
Turn each slice and bake another 15 minutes.
BUT watch, remove before they get too brown or burn.
Practice will make perfect.
The most important ingredient of good cooking is perseverance.