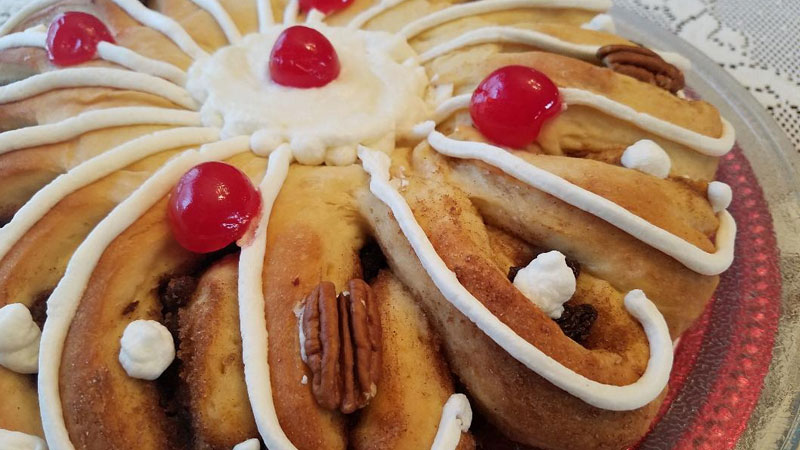 It was a Saturday morning in 1961, I was 16, and was experimenting with my first sweet roll dough. It was still rising when I had to leave for an appointment. Mom took over for me, and finished making the Swedish Tea Ring. Her first attempt turned out perfect. Making tea rings became her Christmas tradition – as it is in our home. Years later, after Mom's retirement, during Christmas holidays, she made the same tea rings for MANY of her friends.
The tea ring pictured was one I took to our youngest son's home. It had been in our freezer since Christmas, two-and-a-half months. I had no idea if it would still be good. It was; it tasted as fresh as if it had just been made! How can that be? Oh, I should mention that for the first time, while frosting the ring, I filled the center with the extra frosting. It made it very convenient for those who like additional frosting.
When I make the rings ahead for the upcoming holidays, while they are still just slightly warm, I wrap them in layers, and layers, of plastic wrap. Then I wrap them tightly in foil, and freeze them. When time to serve, I remove one from the freezer about three hours before I plan to serve it. While it is still frozen, I add Vanilla Butter Frosting, pecans and cherries, and wrap it in a single layer of plastic wrap. Open air is the enemy of baked goods. When it reaches room temperature, it is ready to serve. I do not heat the entire ring; that dries it out. I like to place a slice in the microwave for eight seconds, and add a little butter. Mmm good.
For a printed copy, with or without photo, click green dot on left side at the bottom of this page.
If you would like a Monday reminder, and quick link, in your email to next week's post, just sign-in at the secure registry at the top of this page, and click GO. For a private conversation, please write your message on the Contact page found at the right on the Home page.
Author:
Betty Crocker Cookbook
Ingredients
DOUGH:
1 package active dry yeast
¼ cup warm water (105 to 115 degrees)
¼ cup lukewarm milk (scalded then cooled)
¼ cup sugar
½ teaspoon salt
1 egg
¼ cup shortening or butter, softened
2 & ¼ to 2 & ½ cups all-purpose flour
TEA RING:
2 tablespoons butter, softened (I use a bit more.)
½ cup brown sugar (packed)
2 teaspoons cinnamon
½ cup raisins
5 maraschino cherries
7 pecans
VANILLA BUTTER FROSTING:
⅓ cup soft butter
3 cups confectioners' sugar
1 & ½ teaspoon vanilla
2 tablespoons milk
Instructions
DOUGH:
Dissolve yeast in warm water.
Stir in milk, sugar, salt, eggs, shortening and 1 & ¼ cups flour*
Beat until smooth.
Mix in enough remaining flour to make dough easy to handle.
Turn dough onto lightly floured board.
Knead until smooth and elastic, about 5 minutes.
Place in greased bowl.
Turn greased side up. Cover.
Let rise in warm place until double, about 1 & ½ hours.
Dough is ready if impression remains when touched.
Punch down dough.
SWEDISH TEA RING:
Roll dough into rectangle, 15 x 9 inches.
Spread with butter.
Mix sugar and cinnamon together.
Sprinkle on dough, and add raisins.
Roll up, beginning at wide side.
Pinch edge of dough into roll to seal well.
Stretch roll to make even.
Lightly grease insulated cookie sheet.
With sealed edge down, shape into ring.
Pinch ends together.
With kitchen scissors, make cuts ⅔ into ring at 1-inch intervals.
Twist each section on its side.
Let rise until double.
Bake 25 minutes.
While baking make frosting.
Vanilla Butter Frosting -
Mix together: butter, sugar, vanilla, and butter.
Frost* while warm (see essay).
Decorate with nuts and cherries (see essay).
Serve warm or freeze for later use (see essay).
*if using self-rising flour, omit salt.