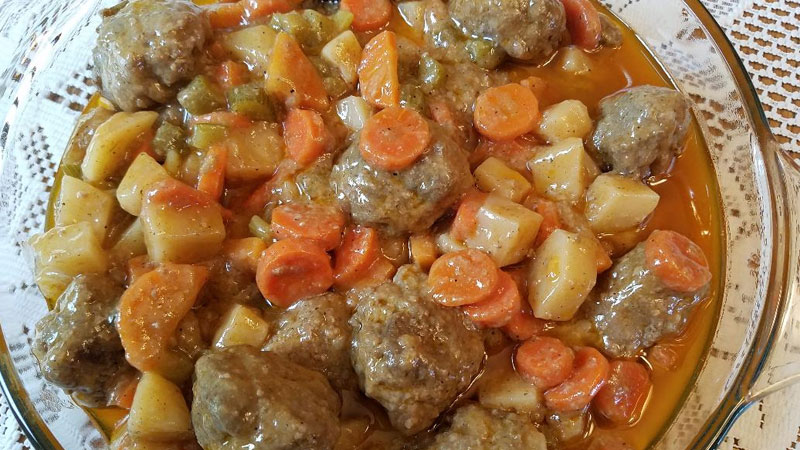 In the 60's while Gary, my brother, was living in Traverse City attending Northwestern Michigan College, I served this entrée to him. He expected a meaty gravy. Surprised, he asked "What AM I eating?" After his reaction, I always let guests know that the stew had a different flavor – for it was made with French dressing. Thankfully, Gary did like it.
My favorite memory, from the months that my brother lived in Traverse City, took place when Ronda, our first born, was 9.5 months old. One evening when Gary was lying on our living room floor, and Ronda was hanging onto him – she took her first steps – in that instant – her world changed.
This recipe remains a favorite. Tell me, how can we have so many family favorites? Do we simply consider everything we eat a favorite? Oh no, we don't. For proof of that see Tuna and Peas on Toast.
Blessings,
Susanne
For a printed copy, with or without photo, click green dot on left side at the bottom of this page.
If you would like a Monday reminder, and quick link, in your email to next week's post, just sign-in at the secure registry at the top of this page, and click GO. For a private conversation, please write your message on the Contact page found at the right on the Home page.

| | | |
| --- | --- | --- |
| French Meatball Stew | | Print |
Author:
Kraft Recipe from 1960
Ingredients
1 lb. ground beef
1 egg
½ cup chopped onion
¼ cup dry bread crumbs
¼ cup milk
2 tablespoons vegetable oil
1 teaspoons salt
¼ teaspoon pepper
8 ounce bottle French Dressing
1 cup water
2 cups sliced carrots
2 cups cubed potatoes
1 cup sliced celery
¼ teaspoon thyme
Instructions
Make one day ahead - A Must for Peak Flavor.
Combine meat, egg, onion, bread crumbs, milk and seasoning.
Mix well.
Loosely form meatballs; brown in oil.
Drain.
Add dressing, water, carrots and celery.
Simmer a few minutes.
Add potatoes, and thyme; cover and simmer 20 minutes or until vegetables are tender.
Thicken liquid for gravy.
Changes: I use ground beef with 20 to 25%.fat.
I use Italian bread crumbs.
KRAFT STOPPED MAKING THEIR OLD DRESSING
I MAKE THE FRENCH DRESSING FOUND UNDER TACO SALAD.
I USUALLY MAKE EXTRA MEATBALLS