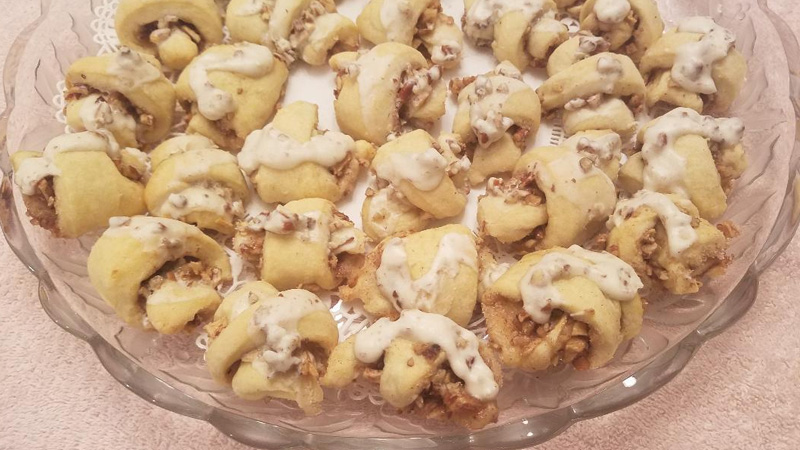 While I was housebound, dealing with a knee problem, I sat down in a comfy chair which I rarely use. As I sat there, I began to sort through the magazines stored in an accompanying end table/magazine rack. That is when I came across a Taste of Home FIVE STAR RECIPES Cookbook which I had forgotten about. Wow! I opened the large, hardcover book to a page of beautiful pictures of Monkey Bread Biscuits! Orange Cranberry Bread! Austrian Apple Twists! My, oh my, I could not wait to try them all! That Sunday I took the apple twist for the adult Sunday school snack table…few were left. I can't wait to make them again with a few changes to the recipe. I will generously butter the dough disks before adding the sugar mixture, will not cut the apples quite so fine, and will cut the disks into 12 slices, instead of 16. I recently heard a chef on the radio. He said that a sign of a passionate cook is that he rarely considers a recipe totally perfected! I kinda' had to agree with him…heh, heh. As soon as I get some fresh cranberries I will try making the bread!
For a printed copy, with or without photo, click green dot on left side at the bottom of this page.
If you would like a Monday reminder, and quick link, in your email to next week's post, just sign-in at the secure registry at the top of this page, and click GO. For a private conversation, please write your message on the Contact page found at the right on the Home page.

| | | |
| --- | --- | --- |
| Austrian Apple Twists | | Print |
Author:
Courtesy of Taste of Home tasteofhome.com
Ingredients
1 package (¼ ounce) active dry yeast
3 cups all-purpose flour
1 cup butter, softened
3 large egg yolks, beaten
1 cup (8 ounces) sour cream
½ cup sugar
½ cup finely chopped pecans
¾ teaspoon ground cinnamon
1 medium tart apple, peeled and finely chopped
ICING
1 cup confectioners' sugar
4 teaspoons milk
¼ teaspoon vanilla extract
finely chopped pecans
Instructions
In a large bowl, combine yeast and flour.
Add butter and mix well.
Add egg yolks and sour cream; mix well.
Shape into four balls.
Wrap in plastic wrap; refrigerate overnight.
NEXT DAY:
Combine the sugar, pecans and cinnamon; set aside.
(I doubled the sugar, pecan and cinnamon mixture.)
On a floured surface, roll each ball of dough into a 9-inch circle.
Sprinkle with the sugar mixture and apple. (I doubled the apple.)
(I found it helpful to gently press the mixture and apple into the dough.)
Cut each circle into 16 wedges. (Next time I will try 12 wedges.)
Roll up from the wide edge and pinch to seal.
Place with point side down on greased baking sheets.
Bake at 350 degrees for 16-20 minutes or until lightly browned.
IMMEDIATELY: remove to wire racks to cool.
FOR ICING: combine sugar, milk and vanilla until smooth.
Drizzle over cooled twists.
Sprinkle with pecans. Serve or freeze.
NOTE: The yeast does not need to be dissolved in liquid,
and no rising time is necessary before baking.