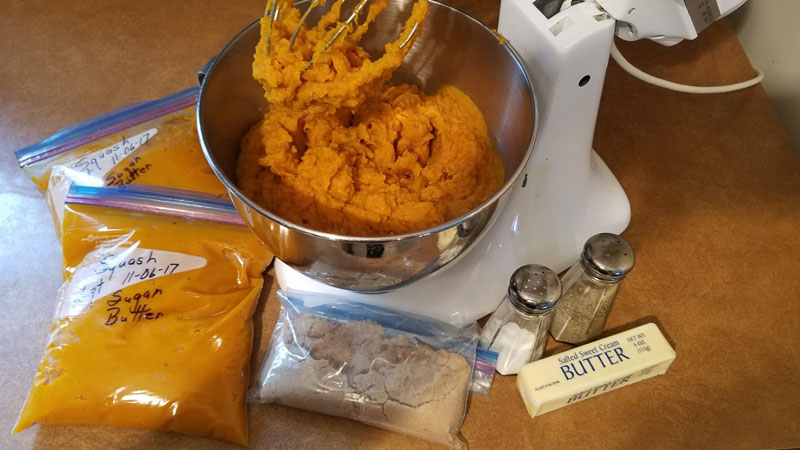 It seems that people either love winter squash, or hate it…for there are not many 'take-it or leave-it' types around our table. Ron and I believe that winter squash haters or lovers run about fifty-fifty. So, for us, putting up enough squash for the year is well worth the effort. We use buttercup squash, the traditional type. I read that it is best when harvested after the first frost.
There is now, sometimes, at grocery stores, farmers' markets, and road-side stands a Japanese squash mixed in with the old traditional buttercup. It looks almost identical to the other, but oh I will not use it. In my opinion, the flavor is absent, and no amount of doctoring it up…works. In 2012, after unknowningly baking a batch, and then tasting it, I threw it out with all the remaining squash in the garage. Often, vendors do not even realize that they have two types of butternut squash. The bottom of a Japanese squash is flat on the bottom. To identify traditional buttercup squash look on the bottom for a large, pale green, circular protrusion. It will have a smaller, maybe quarter-size, button nob on top of that. Most produce clerks are unaware of that fact.
Baking: I bake the squash with the open side up, uncovered. I like to get rid of as much moisture as possible. Who wants a helping of watery squash on their plate? Winter squash should set up like well prepared mashed potatoes.
Some years ago, on the outskirts of the far side of town, we found a farmer who sells his squash for $1.00 a piece. He sets a huge pile of squash on a large, trailer bed, and allows customers to dig around for the ones they prefer. For us, that's fun. As it is said, "To each his own." This summer's weather (2018) must have been perfect for growing buttercup squash for we have crates of large, 'beautiful' squash waiting to be processed…more fun to come, and still for just $1.00 a piece! (This fall, 2019, the price went up to $2.00 each…still a bargain.)
For a printed copy, with or without photo, click green dot on left side at the bottom of this page. If you have any questions, please write to me through Contact found to the right of the Home page.

| | | |
| --- | --- | --- |
| Buttercup Squash, Year-In, Year-Out | | Print |
Ingredients
FIVE BATCHES OF FREEZER SQUASH
EQUALING ABOUT 14 -16 CUPS A BATCH
20 nice size butternut squash
Five sticks of butter
One and ⅔ cups brown sugar
Lots of salt and pepper
Instructions
ONE BATCH OF BUTTERCUP SQUASH
Wash 4 squash well.
Cut each in half, and cleanly scoop out seeds and strings.
Place on edged baking sheet - open side up.
Bake at 350, for 1.5 or 2 hours or more until COMPLETELY soft.
While still hot, scoop out into mixing bowl.
Mix on medium until smooth
Add one stick butter, and ⅓ cup brown sugar, mix.
Add salt and pepper to taste. Mix.
Let cool.
Place 4 cups in quart size freezer bags. Flatten.
Cool completely, mark and freeze.
Keeps in freezer for well over a year.
For holidays I freeze 8 cups in gallon freezer bags, pressed flat.