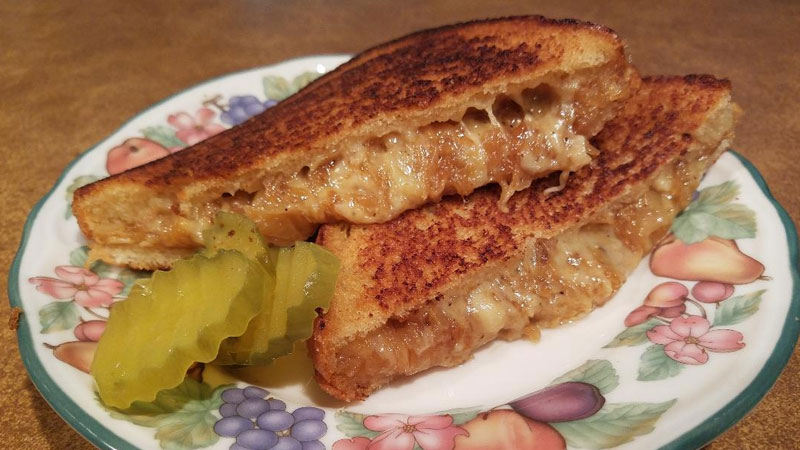 I am not sure how I came across this recipe, but I did …sometime last May (2019). And oh how I wanted to give it a try. So, I made a trip to an exclusive cheese shop. I needed four ounces of Gruyere, so I took out a loan, and bought it. The cheese sat unopened in the refrigerator until September. I didn't forget it was there. I kept wanting to make it, but I couldn't find a time in my schedule that bad breath – the next day – wouldn't be a problem. You see, each of the two sandwiches called for a half-a-pound of onions. Finally, the time came. I made them for lunch; Ron and I ate every bite, and never had a problem with onion breath. I figured the process of caramelizing must have neutralized the onions…somewhat. Of that, I'm not sure, but I am sure of this. I'm going to have to visit the cheese shop again…that is once I get my loan paid off.

| | | |
| --- | --- | --- |
| French Onion Grilled Cheese | | Print |
Author:
Ali Slagle NYT Cooking
Ingredients
4 tablespoons unsalted butter
1 pound yellow or Vidalia onions, peeled, halved and thinly sliced
Kosher salt and black pepper
2 teaspoons sherry, red-wine or white-wine vinegar (optional)
4 ounces Gruyere cheese, grated
4 slices bread, cut no wider than ½-inch thick
Instructions
STEP 1
In a large skillet over medium-high heat, melt 2 tablespoons butter.
Add the onions and season with salt and pepper.
Cover and cook, stirring once or twice, until the onions are softened, 3 to 5 minutes.
Uncover, reduce the heat to medium-low.
Cook, stirring occasionally, until deep golden brown, 20 to 25 minutes.
If the onions look dry or like they might burn, add a few tablespoons of water.
Scrape up any browned bits that are stuck to the bottom of the skillet.
Wipe out the skillet, or wash it, if necessary.
STEP 2
Add the cheese to the onions and stir to combine.
Put down two slices of bread.
Scoop half of the cheese-onion mixture onto each one.
Top with the remaining slices of bread, and press down gently.
STEP 3
In the skillet, melt 1 tablespoon butter over medium heat.
Add the sandwiches and cook until the bottoms turn golden brown, 3 to 4 minutes.
Reduce the heat to prevent toast from darkening too quickly, if needed.
Add the remaining 1 tablespoon butter, flip the sandwiches.
Press down and cook until the cheese has fully melted and the bottoms turn golden brown, 3 to 4 minutes.
Serve immediately.