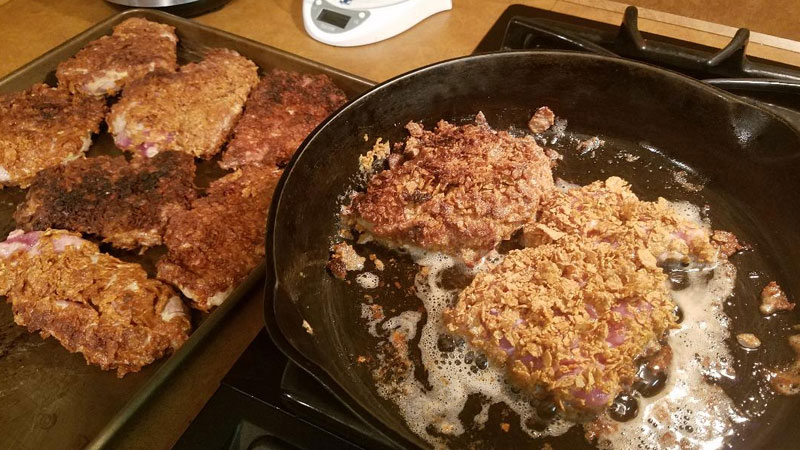 When I was thinking of putting Wheaties Pork Steak up for your review, I remembered how, after our kids grew up, one of them complained that I often baked the pork steaks until they resembled charcoal. I probably did, for I used to like my hot dogs blackened too. So recently, after having not made the steaks for years, (I had forgotten about the recipe), I kept a keen eye on them and made sure that they came out of the oven golden brown. They were wonderful, even the leftovers! Our son kept licking his lips, and raving about how the simple meal was a feast! Even though, it wasn't, it was good to hear, and made the work of clean-up well worth the effort!
This morning, however, I did find it kind of funny when I read the following verse in Numbers 29:27.  "As an aroma pleasing to the LORD, prepare a burnt offering of one young bull…" I had to laugh, had I burnt the steaks, it seems that the dear LORD might have enjoyed the aroma! Of course, that was in the Old Testament days. Perhaps His pleasures have changed, but He does state that He is unchanging. So, it appears, that in the kitchen, that could work in my favor!
| | | |
| --- | --- | --- |
| Wheaties Pork Steak | | Print |
Author:
Received from Mom, Dorothy Box
Ingredients
Ten to twelve bone-in pork steaks
Six beaten eggs
One box of Wheaties Cereal
Vegetable oil
Instructions
Break Wheaties into small pieces, do not crush as one does crackers.
In a medium to large, shallow bowl, beat eggs with a fork.
Heat to warm, ⅓ cup vegetable oil, or more, in heavy skillet.
Dredge steak in eggs, then in Wheaties, coat heavily on both sides.
Brown on med-heat until just nicely golden.
Transfer to well-edged baking sheet.
Bake at 335 for 1.5 hours.