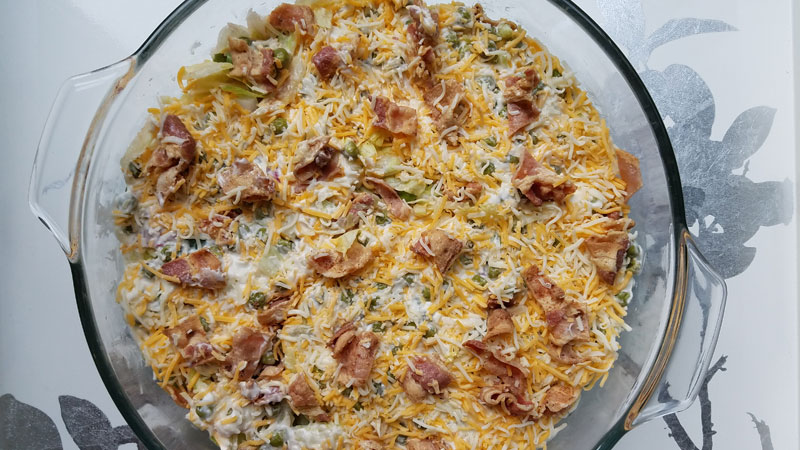 This is one convenient lettuce salad! Ron and I first had this at the home of a teacher who taught with Ron. His wife, Deanna, was an excellent cook; I have several of her recipes, but will not be getting any more. She left this earth over ten years ago, but her gentle kindness, and smile remain.  We knew, when Deanna invited us for a six o'clock dinner, that it would probably be ready between seven and eight, but it didn't matter at all. Though the food was good, the conversation was better. The entire evening, no matter how late it went, was delightful. We miss those evenings.
Back to the salad… it is convenient because it is completely prepared a day ahead… no adding of dressing at the last minute. And, if you do make this salad, it is made even easier, if earlier in the week, while frying up some breakfast bacon, you fry up an extra half-a-pound, and toss it in the freezer. Oh, and do crisp the lettuce ahead of time too. Crisping is the secret to a good lettuce salad.
Crisping lettuce – remove core, and outer icky leaves. Immerse lettuce in a bowl of cold water, let set a few minutes, drain in sieve. While still in sieve, drain in refrigerate for 2 hours. Place a paper towel in the bottom of a gallon plastic bag, and place lettuce on top. With bag open, place in refrigerator for same day or later use.
This salad requires a large, straight-sided, shallow dish or container. I like to use a 12-inch, Tupperware pie, storage-container. I have eaten this salad at a funeral buffet made in a bowl. It was hardly recognizable, thick gobs of plain lettuce on the bottom with all the other ingredients gathered on the top. For this salad the layers need to be even.
For this recipe a sharp paring knife, and a pair of kitchen scissors for the lettuce sure helps. Enjoy!

Author:
Received from Deanna Warren
Ingredients
head of lettuce, made crispy, cut in fine pieces
3 or 4 stalks of celery, diced
1 small onion, diced
1 medium green pepper, diced
10 ounce package of frozen peas, thawed, NOT COOKED
1 & ¼ cups Miracle Whip
2 tablespoons sugar
8 ounces mild cheddar cheese, grated
8 ounces fried, crispy bacon, crumbled
Instructions
Make the process easier, a day ahead, crisp the lettuce,** and fry the bacon.
This salad should be made in a large, shallow container, a 12-inch Tupperware pie container works well.
Start with bottom layer.
First layer - head of crisp lettuce, cut in fine pieces, packed
Second , 3rd, 4th layer combined diced celery, chopped onion, and diced green pepper
Fifth layer - peas - frozen - uncooked - thawed, place enough nearly thawed peas to cover the entire salad.
Salad Dressing:
Mix 1 & ¼ cups Miracle Whip with 2 tablespoons sugar.
In small amounts, drop dollops over the surface of the peas.
Spread carefully, hiding the peas, while covering the surface.
Sixth layer - ½ lb. grated mild cheddar cheese
Seventh layer - ½ lb. crumbled bacon, crispy browned
Cover, refrigerate, and let set a full 8 hours or overnight.
** For CRISP lettuce - remove core, and outer icky leaves.
Immerse in a bowl of cold water, drain in sieve.
While still in sieve, drain in refrigerate for 2 hours.
Place in open gallon plastic bag.
Return to refrigerator for later use.