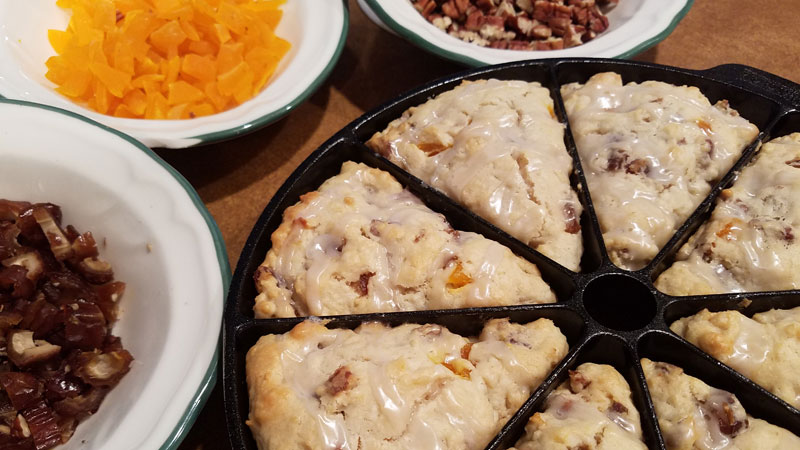 I was given this recipe, and two others, from a friend of my mother's, Marge Eckert. She found it in the newspaper at the time of Prince Charles and Diana's wedding. I hope the Royal chefs served them, a lot of them, for one leads to another.
In May, 2011, I took a batch to dear friends, Don and Dottie Dooley. Dottie was not feeling her best. Later, they insisted, several different times, that they were the best scones that they had ever tasted. I may not have said so, but I agreed.
In the recipe, I mention chilling the scones before baking. I was taught to do that when I took a one-time, Northwestern Michigan College, scone, cooking class. When cold butter expands in the hot oven, it makes air pockets, causing the scones to become light and airy. The chef was also adamant about not over baking the scones. He said that even a minute too long would dry them out. And, he wanted all our scones out of the oven in 15 minutes! Flat! Let them finish baking on the baking sheet after removing them from the oven, was heard more than once.
The scones for a 2016 Bible Study were baked in an 8-section scone pan using ¾ batch of dough. Although full recipe scones are beautiful, they are a little large for those who have just eaten breakfast at home. I could really use two more scone pans! Amazon sells them…a Nordic Ware Scottish Scone Pan. Christmas is closing in, I hope Ron reads this. 
If not using a scone pan, I suggest using a full recipe, and dividing the recipe into two circles, 8 inches wide, and slicing for a total of 16 servings.
For chopped, dried fruit I choose two of the following: apricots, cherries, mangoes, dates, or pineapple. I usually use pecans or walnuts, but prefer pecans. For the scones pictured, I used equal amounts of mangoes, dates, and pecans.
It surprises me a bit, but currently, at brunches and coffees, scones seem to be preferred over muffins, sweet rolls, and cookies. I am not sure why, maybe it's just a phase.

| | | |
| --- | --- | --- |
| Royal Wedding Scone | | Print |
Author:
Newspaper Recipe from Marge Eckert
Ingredients
2 & ¾ cup all-purpose flour
⅓ cup sugar
4 t. baking powder
¼ t. salt
½ cup + 2 T. butter, melted
1 cup heavy cream
¼ cup sour cream
1 t. vanilla extract
1 & ½ dried fruit and nuts
coarse sugar, optional
Instructions
If not using a scone pan, line a baking sheet with parchment paper.
In a large bowl, whisk together the flour, sugar, baking powder, and salt.
Add the melted butter and stir until well distributed.
Mix together cream, sour cream, and vanilla.
Blend with dry ingredients.
Mix together dried fruit and nuts.
Add the fruit and nuts until just distributed. (I usually use two fruits, and pecans.)
Turn the dough onto a lightly floured surface.
Do not knead.
Pat the dough into a circle about ¾ inch thick and 10 to 8 inches across (8 inches for scone pan).
Cut the circle into 8 wedges.
Transfer each wedge to scone pan or prepared baking sheet.
Cover and refrigerate for 2 hours.
This allows the butter to harden, to create flakiness as the butter expands in the oven.
While the scones chill, heat the oven to 400.
If desired, you may sprinkle the tops of the scones with coarse sugar.
I usually opt, after they cool slightly, to circle drizzle frosting on them. Frosting recipe follows.
Bake for 18 minutes, or until there is just a very, very slight edge browning on one or two.
Let them finish baking on the baking sheet.
Cool. Do not over bake.
Frosting:
cup powdered sugar
& ½ tbsp water (or more)
/4 teaspoon vanilla
Blend, and drizzle on 'almost' hot scones.