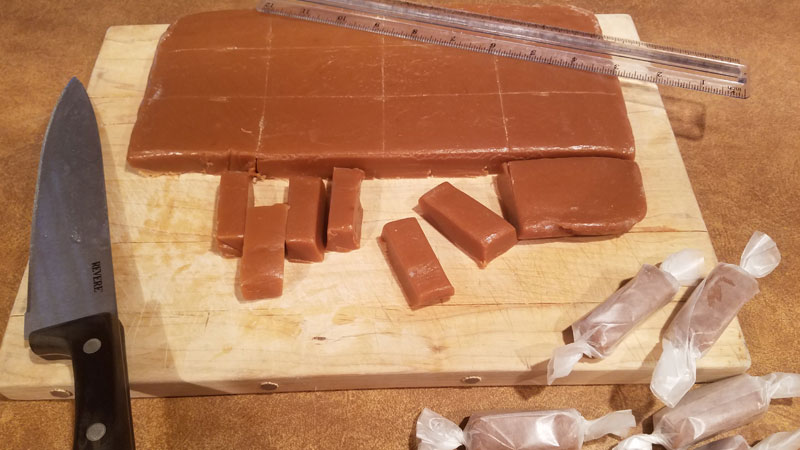 When I first made this recipe for my family, I really started something.  I have now made thousands of caramels for a number of fund raisers. The most ever paid was at a church auction. The church got $300.00 for a jar of 100 caramels! It all started when our adult kids suggested that I make them for the grandchildren's bowling team fund raiser. It has even been suggested, by many, that I make a business of selling them, but that isn't going to happen.
Perfecting this recipe didn't just happen. My first block of caramel could not be cut, well perhaps they could have been…by a chainsaw! It took me three more tries before I got it right. I finally determined with the size pot I use, 6 & 3/8 inch wide, that I should only take the mixture to a temperature of 242. Perhaps the first trait of a 'cook' is perseverance.
Taste of Home suggests testing your thermometer by bringing water to a boil; the thermometer should read 212 degrees. Adjust your recipe temperature up or down.
My caramels are thicker than the Taste of Home recipe. For I pour the caramel into an 11 inch x 6.5 inch x 2 inch pan which makes 64 caramels. After the mixture has completely cooled, usually I wait until the next day, I place the caramel block on a cutting board. With a paper towel, I wipe off all excess butter. I measure off three length ways cuts, and cut each of the four lengths into 16 pieces. Then I wrap the caramels in 4 x 5 inch pieces of wax paper, twisting each end. Place in an airtight container. If they won't be eaten that day or the next, I freeze them. They freeze very well. The caramels have a short shelf life, maybe 10 to 14 days – they get dry in the middle.

| | | |
| --- | --- | --- |
| Soft Chewy Caramels | | Print |
Author:
Courtesy of Taste of Home, tasteofhome.com
Ingredients
1 tablespoon plus 1 cup butter, divided
2 & ¼ cups packed brown sugar
1 can (14 ounces) sweetened condensed milk
1 cup dark corn syrup
Instructions
Line a 15 x 10 x 1-in pan with foil.
Grease the foil with 1 tablespoon butter.
In a heavy saucepan over medium heat, melt remaining butter.
Add the brown sugar, milk and corn syrup.
Cook and stir until candy thermometer reads 250 degrees, (hard-ball stage).
Pour into prepared pan (do not scrape saucepan).
Cool completely before cutting.