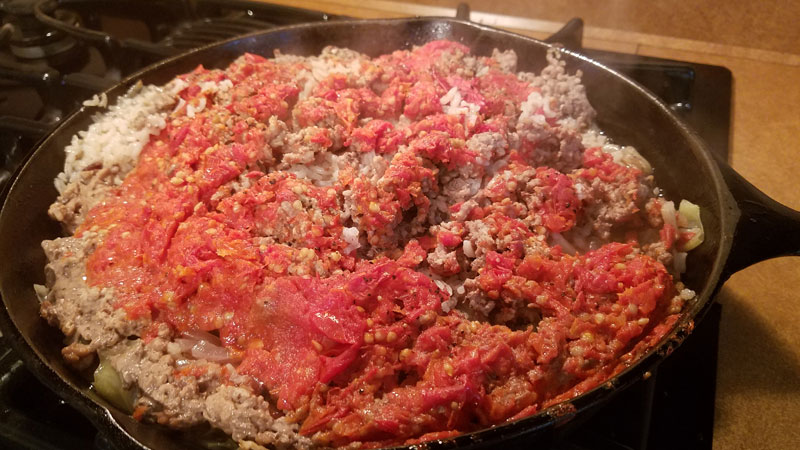 As Ron's garden tomatoes near the end of their season, his cabbage is reaching its peak. So he did not surprise me when he asked, "What can I make that uses both tomatoes and cabbage?" I replied, "German Skillet." The surprising part was that he wanted to make it. While it was still cooking on the stove top, we were invited to catch an early movie, Operation Finale. It is the story of extracting from Argentina,  Adolf Eichman, a World War II German officer for a war-crimes trial. (The movie was very interesting, it kept me totally focused.) I remember the trial taking place when I was in high school. Be assured, the paring of German Skillet and Adolf Eichman is purely coincidental. Once ready to leave (I take longer than Ron), there was no time for me to eat, so I took a helping, and dined en route, sort of a… dinner cruise minus the water. The skillet meal so tasty, but there was one problem…I couldn't get a second helping.
When I turned to this recipe in my personal cookbook, I noticed what I had written on the top. I could eat the entire thing! – Not really. Actually, the recipe makes a good-sized casserole. We still have enough for dinner tonight, and this is the fourth day! Thankfully, we really do enjoy leftovers.   

Ingredients
1 tablespoon olive oil
⅓ to ½ head cabbage
1 medium onion
⅔ cup raw rice
2 lb. ground beef
1 quart of canned tomatoes
Instructions
Spread oil evenly in a 12-inch skillet.
Cut cabbage in ½ inch slices. It shrinks down a lot while cooking.
Add salt and pepper.
Sprinkle with chopped onions.
Add layer of raw rice.
Add broken chunks of ground beef.
Add salt, and pepper.
Cover with tomatoes.
Cover skillet with good fitting lid.
Cook on low on top of stove for 40 to 60 plus minutes.