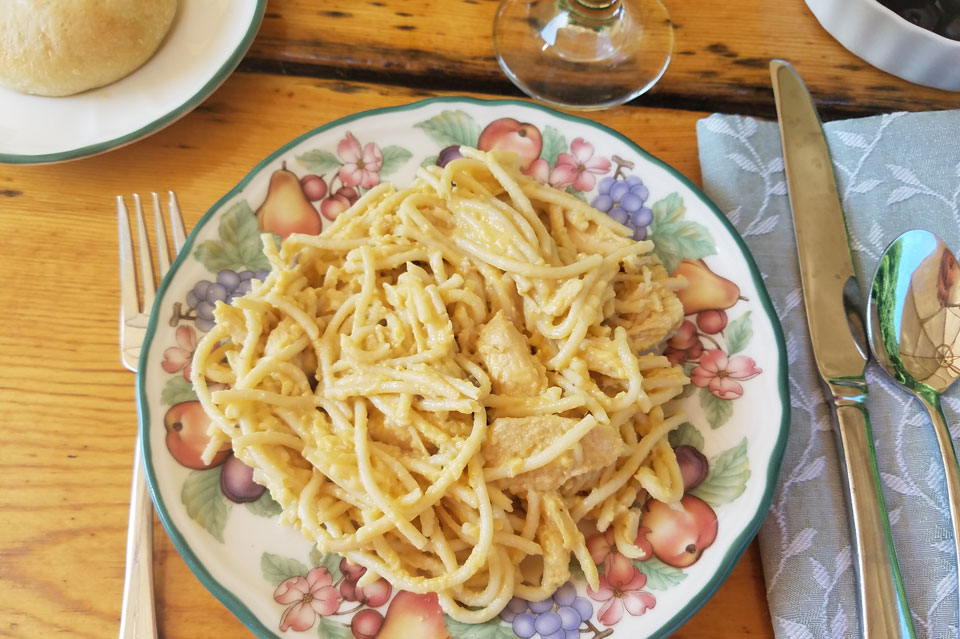 A granddaughter, while making plans to bring her friends to our home for the weekend, was invited to pick out her favorite entrées for me to prepare. To my great surprise, the first one that she requested was Chicken Spaghetti. Chicken Spaghetti? Why, that's made with canned soups, and so easy to make. Are you sure you want that? She was sure, and it was delicious. It had been so long since I had served it that I had forgotten how much we liked it. Her second choices were Sesame Chicken, and Baby Back Ribs. Ribs will be next week's recipe.
So, the chicken recipe is back in the loop again. I make it a day ahead – for it seems even tastier after having set awhile. I like to freeze the leftovers, in small amounts. for quick use.
A helpful practice: I freeze every extra ounce of chicken stock I can collect for use in recipes such as this. It is far richer than any store bought broth.

Ingredients
2 & ½ cups raw spaghetti or 6.5 ounces
½ cup chicken broth
1 can cream of mushroom soup
1 can cheddar cheese soup
2 cups chicken pieces
Instructions
Break raw spaghetti into 2.5 inch pieces.
Cook broken spaghetti in water according to package directions.
Drain.
Mix broth and soups together.
Mix into warm spaghetti.
Fold in chicken pieces.
Spread into a shallow 2 quart baking dish.
Bake, uncovered, at 350 degrees for 30 minutes.
If it seems dry, stir in a few drops of water.