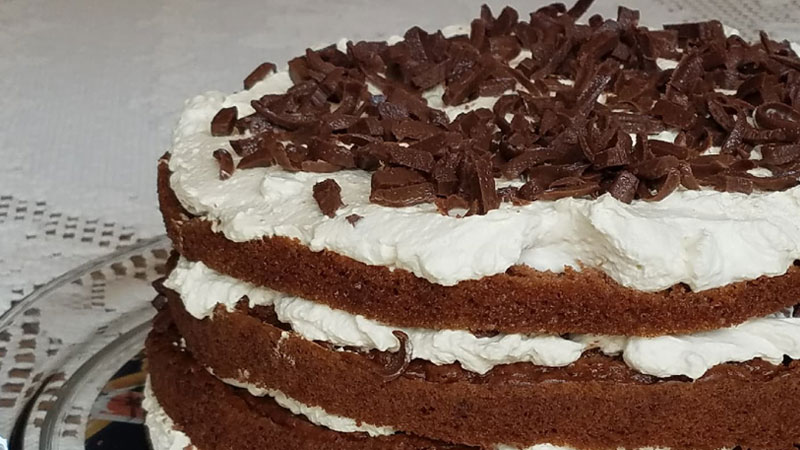 Oh, you are going to like this recipe, that is, if you like chocolate. You might as well copy it now, for someday, you will wish that you had. It's another keeper, and a great holiday dessert – for it is made a day ahead, a real help for company preparedness. And it is easier to make than it looks. From this recipe, I was inspired to created a white, raspberry torte which is at least as good, if not better, and will at some point become a post.
Heads up: the best tool that I have found for slicing the layers in two is dental floss. Sometimes, the floss does not want to break the baked edge, if so, use a knife to slice a beginning point, then finish with the floss.
I bake the layers a few days ahead. Just after they are nearly cooled, I freeze them individually in freezer bags, un-sliced. This method of freezing keeps the cake ever so moist.
When preparing the filling, whip the cream cheese mixture first, and remove from mixing bowl. Wash bowl and beater thoroughly, and place in freezer for 15 minutes. When whipping cream the utensils need to be oil free and ice cold. I have two mixing bowls, which helps, but I have yet to purchase an additional beater.

| | | |
| --- | --- | --- |
| Chocolate Bavarian Torte | | Print |
Author:
Courtesy Taste of Home, tasteofhome.com
Ingredients
1 package (18-¼ ounces) devil's food cake mix
without pudding
1 package (8 ounces) cream cheese, softened
⅔ cup packed brown sugar
1 teaspoon vanilla extract
⅛ teaspoon salt
2 cups whipping cream, whipped
2 tablespoons grated semisweet chocolate
(I use 2 milk chocolate Hershey Bars - 2.6 ounces each. )
Instructions
Mix and bake cake according to package directions, using two 9-inch round pans.
Cool for 15 minutes; remove from pans and cool completely on wire racks.
Grate the amount of chocolate needed.
Use rest to make large chocolate curls, refrigerate the curls until time to finish cake.
Split each cake into two horizontal layers; place one on a serving plate.
In a mixing bowl, beat cream cheese, brown sugar, vanilla and salt until fluffy.
Whip the cream. Fold the cream cheese mixture into the cream.
Top layer with a fourth of the cream mixture.
Sprinkle with a fourth of the chocolate.
Repeat layers.
Top with a massive amount of large chocolate curls.
Cover and refrigerate for 8 hours or overnight.