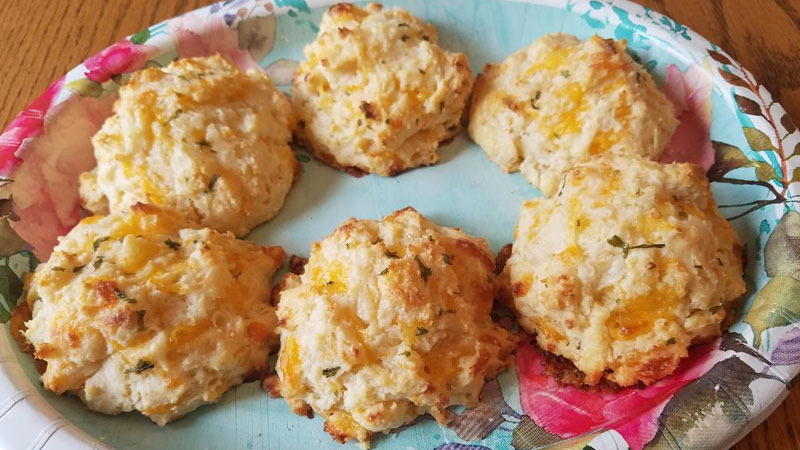 My grandmother loved bread. If there was bread on the table, she could leave the table satisfied. In that way, I am a bit like my grandma. When Ron and I are dining out and no bread or biscuits come with the meal, I am always a little disappointed. These biscuits remind me of the ones Red Lobster serves…so good! There is a very important thing to remember when serving bread, biscuits, or muffins. Make sure to have butter on the table…butter that is room temperature – ready for spreading. Sometimes I wonder if I eat the bread for the butter!

Ingredients
2 & ½ cups Bisquick baking mix
¾ cup cold whole milk
4 tablespoon or ½ stick COLD butter
¼ teaspoon garlic powder
1 heaping cup grated cheddar cheese
AFTER BAKING TOPPING:
2 tablespoon butter, melted
¼ teaspoon dried parsley flakes
½ teaspoon garlic powder
pinch salt
Instructions
Preheat oven to 400 degrees.
Combine Bisquick with cold butter in a medium bowl using a large fork.
Don't mix too thoroughly.
There should be small chunks of butter that are about the size of peas.
Add cheddar cheese, milk, and ¼ teaspoon garlic.
Mix by hand until combined, but don't over mix.
Drop approximately ¼-cup portions of the dough onto an ungreased cookie sheet.
Bake for 15 minutes or until the tops of the biscuits begin to turn light brown.
AFTER BAKING BISCUITS:
Melt 2 T. butter in small bowl in microwave.
Stir in ½ teaspoon garlic powder and dried parsley flakes.
Use a brush to spread garlic butter over the tops of all the biscuits.
Use up all of the butter.
Makes 12 biscuits about 1.8 ounces each.