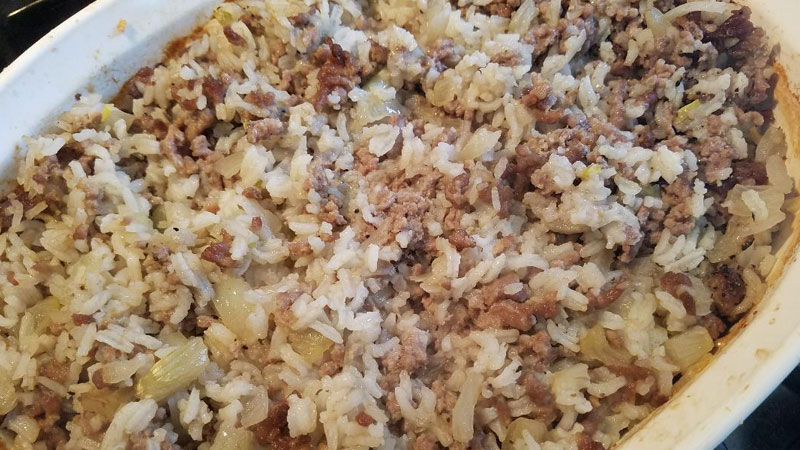 This is one of my Grandma (Kitson) Kenyon's recipes. She was married around 1911, I think. I never heard an unkind word, or a bit of gossip come from her lips. Each of her thirty grandchildren thought Grandma loved him or her best.
The recipe came without instructions, just as many recipes of that time were passed down. For most every woman of that era knew how to cook from scratch. This is very tasty. Unlike meatloaf, there are no eggs added, so the rice and hamburger are loose. The dish is spooned onto the plate.
The following is an old note I had attached to the recipe:
"Having forgotten about this recipe, Ron made it yesterday, 02-09-16. He tripled the ingredients, put it in a shallow 3 quart baking dish, and baked it 1 hour and 15 minutes. Delicious. Ron is doing most of the cooking as I am still recovering from pneumonia. We did go out yesterday to renew my driver's license. I did fine…just a bit shaky. We are going out again today to see if outings will help strengthen me. At this very moment, Ron is making peach nut bread. It is Ash Wednesday, but after such a long absence, I'm not quite ready to greet people at church. I hope to feel strong enough to attend this coming Sunday morning." My encounter with pneumonia is one I hope to never experience again.

| | | |
| --- | --- | --- |
| Grandma Kenyon's Hamburger Rice | | Print |
Author:
Alta (Kitson) Kenyon
Ingredients
2 pounds ground beef, raw
2 heaping cups of well cooked rice
2 teaspoons salt
¼ teaspoon pepper
½ cup water
2 large onions, minced fine.
Instructions
Brown beef in skillet with onions.
Drain off most, not all, fat.
Add rice, salt, pepper, and water.
Stir well.
Place in shallow 1 & ½ to 2 quart baking dish.
Cover and bake at 350 for 50 to 60 minutes.