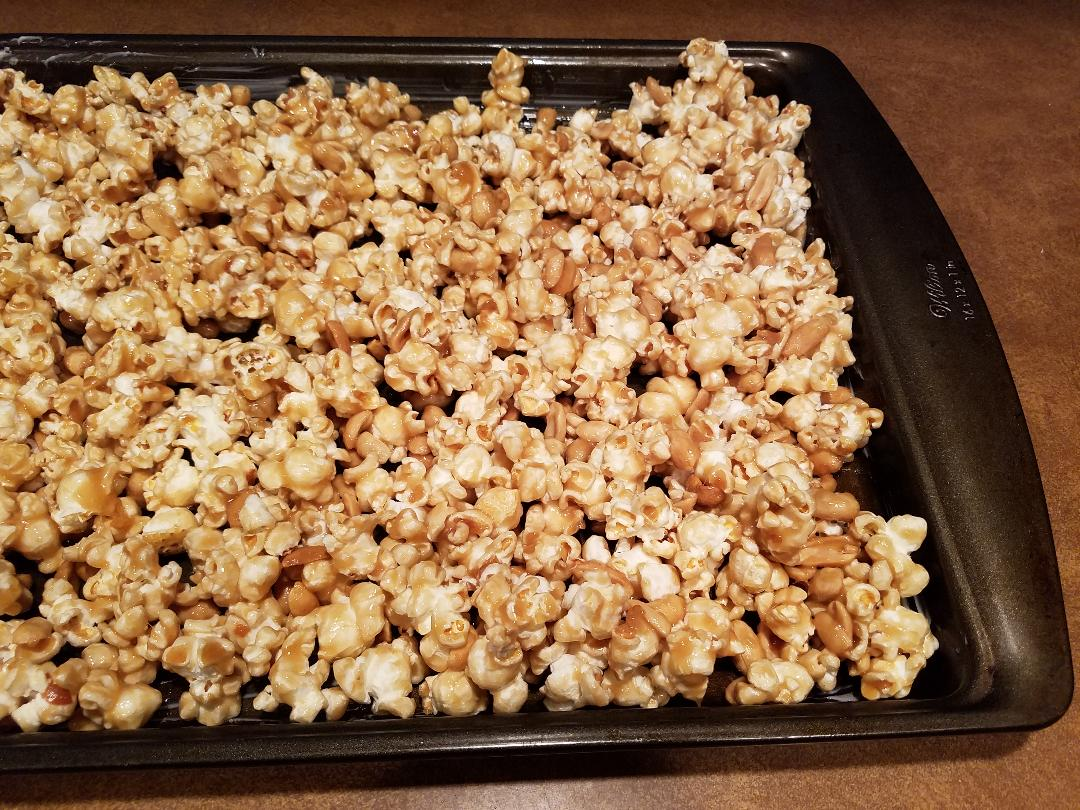 This caramel corn is a wonderful, sweet treat. That is, if you do not make it when the weather is humid. Sadly, I had not learned that until now. The batch pictured was made on the most humid day we have had yet this summer. I made it to share with family and friends while we watched the National Cherry Festival's Junior Royale Parade. Every kernel was soggy…even after coming out of the oven…much of it was thrown away. For what is caramel corn without the crunch! Thankfully, the cookies I made for parade munchies were good.
Caramel Corn history:
When I had a bunch of free cashews, I used four cups for each batch that I made for a Super Bowl gathering. It was very good, too good (02-06). I'd like to try the recipe with mixed nuts – cashews, pecans, almonds.
One recipe loosely fills 2 gallon Zip-Lock bags, plus another 1/2 gallon bag.
Three batches made 28 bags of 3 cups each for Easter, 2015.
Six batches tightly filled 24 one-quart Zip-Lock bags, Easter, 2016.
I suggest popping all the popcorn, measuring it out, cleaning up the kitchen, before starting the cooking process…for it can get messy.

Author:
Received from Peg May
Ingredients
Never make this in humid weather. It will be soggy.
2 cups brown sugar
2 sticks butter
½ cup corn syrup
1 t. salt
1 t. soda
2 cups peanuts or cashews
5.5 qt. popped pop corn
Instructions
After popping the corn, remove un-popped kernels.
Place in HUGE bowl.
Add nuts to the popcorn. Have pot holder and large stirring spoon out.
Choose a large pan - for mixture will puff up when soda is added.
In pan mix sugar, butter, syrup, and salt.
While stirring, bring mixture to a boil...not a HARD boil.
Stir for 5 minutes.
Remove from heat and mix in soda.
The soda will cause the mixture to expand.
VERY Quickly pour over popcorn and peanuts.
Mix well...covering all popcorn and peanuts.
Spread out on 2 buttered cookie sheets.
Bake 200 degrees for 15 minutes.
Cool, and break into pieces.
Store in airtight container.