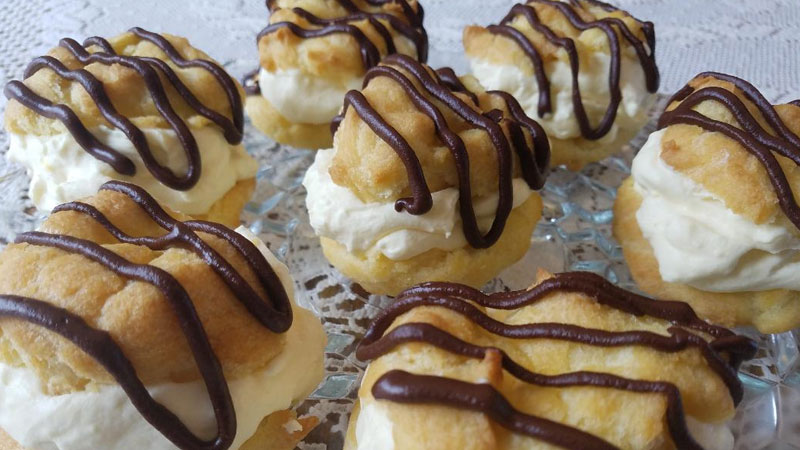 Dear One, when my husband hears me mention cream puffs, it triggers for him the same memory. And he tells me, once again, that when he was a little boy his sisters often made cream puffs…ones filled with lemon pudding. And Ron still thinks that they are difficult to make, even though, I have told him, more than once, that they couldn't be easier.
I have never made a cream puff that I did not like. I have filled them with pudding, whipped cream, and ice cream. And, they have all been good. And this recipe was no different. I did learn one thing about this particular recipe. The leftovers, the next day, were even better than the day before. That is a plus. For anything I can make ahead and serve at its peak, is favorite company fare to me.
I liked how the decorative frosting sat up. Tomorrow I think I will use the frosting recipe to trim up some bakery cookies. I volunteered cookies for an open house, and found that I have no time to bake. Hopefully trimming up the store-bought cookies will help make them more appealing.

| | | |
| --- | --- | --- |
| Vanilla Cream Puffs | | Print |
Author:
Courtesy Taste of Home, tasteofhome.com
Ingredients
1 cup water
½ cup butter
¼ teaspoon salt
1 cup all-purpose flour
4 eggs
FILLING:
1 & ½ cups cold milk
1 package (5.1 ounces) instant vanilla pudding mix
½ to 1 teaspoon almond extract
2 cups heavy whipping cream, whipped
CHOCOLATE GLAZE:
6 tablespoons semisweet chocolate chips
1 & ½ teaspoon corn syrup
¼ teaspoon ground cinnamon
Instructions
In a large saucepan, bring water, butter and salt to a boil.
Add flour all at once and stir until a smooth ball forms.
Remove from the heat.
Let stand for 5 minutes.
Add eggs, one at a time, beating well after each addition.
Continue beating until mixture is smooth and shiny.
Drop by ¼ cupfuls 3 inches apart onto a greased baking sheet.
Bake at 400 degrees for 30 to 35 minutes or until golden brown.
Remove to a wire rack.
Immediately split puffs open.
Remove tops and set aside.
Discard soft dough inside. Cool puffs.
In a bowl, beat the milk, pudding mix and extract on low speed for 2 minutes.
Let stand for 5 minutes.
Fold in whipped cream.
Fill cream puffs, replace tops.
In a heavy saucepan, combine glaze ingredients.
Cook and stir over low heat until chocolate is melted and mixture is smooth.
Drizzle over cream puffs.
Chill for at least 1 hour before serving.
Refrigerate leftovers.