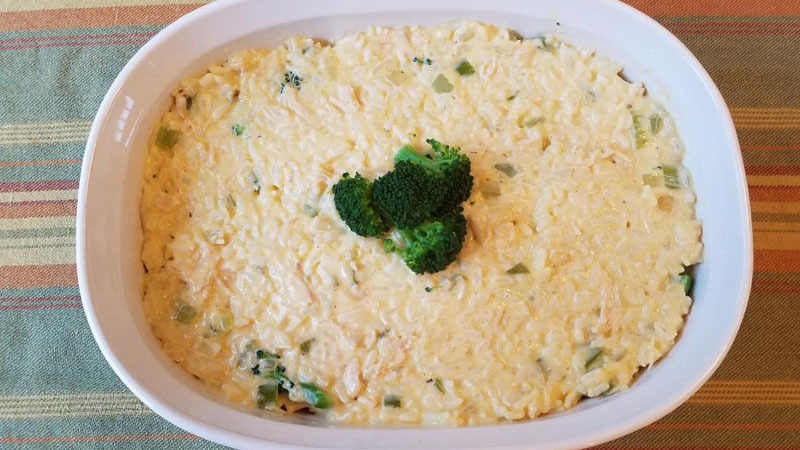 This is a convenient, and tasty casserole. It can be served meatless or with chicken. The broccoli should be steamed or boiled just to firm. My family prefers the broccoli cut up into tiny trees. I do not use much of the stalk. If I do use it, I cut it into small pieces. This can be made a day ahead. To reheat – cover and heat on low. If needed sprinkle a few drops of water over it.
When the kids were home, I doubled this and used a 9 x 13 dish. The cheese whiz is now selling in lesser amounts (15 ounces instead of 16), so when doubling this recipe, I add a little shredded cheese, but that is probably not necessary.
I often add chicken to this recipe, 2 cups of small pieces per single recipe amount. I like Sam's Member's Mark canned chicken, meat from a rotisserie chicken, or leftover boiled, fried, or home-roasted chicken.
This taste good at room temperature too.  So it makes a nice change for anyone who carries their lunch to school or work.

| | | |
| --- | --- | --- |
| Broccoli Cheese Bake | | Print |
Ingredients
½ cup onions
1 cup celery
1 can (10 & ¾ ounces) undiluted
Campbell's Cream of Chicken Soup
8 ounces of cheese whiz (can use Velveeta)
3 cups cooked rice (1 cup raw)
1 to 2 heads of broccoli, cooked, but firm - small pieces
2 cups of cooked chicken (optional)
Instructions
Saute onions and celery.
Mix onions, celery, soup, and cheese whiz into the rice.
Layer rice and broccoli in a 9 x 9 inch baking pan.
Make a second layer.
If the rice is too stiff stir in a touch of water or chicken broth.
Cover and bake at 350 for 35 minutes.