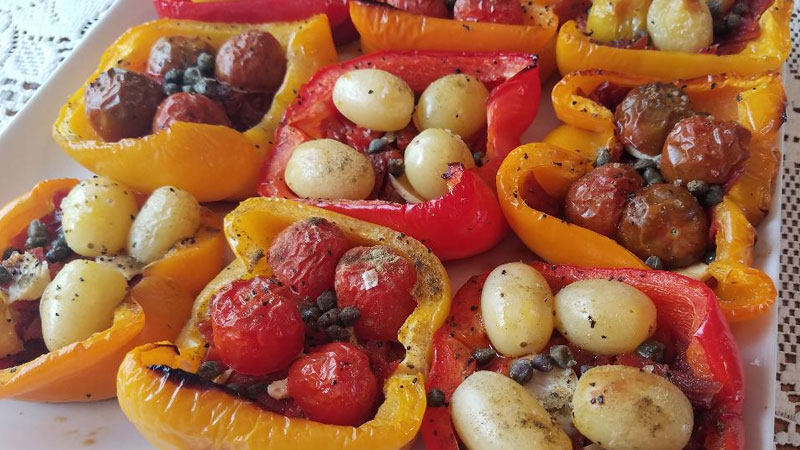 Years and years ago, I found this recipe in the Parade magazine, which is included in our Sunday newspaper. I wanted to try it many times, and finally I did!
The kitchen seems to be a place of life-long learning. Even now as I prepare to share what I learned about the pepper recipe, I have scones baking which may contain too much orange zest; I just had to try doubling it! I sure hope that they will be edible- for I am delivering a meal. (Orange Scone recipe posted earlier.)
Back to the peppers…when I served the platter of peppers, they were too hefty to enjoy as a side for a company dinner. I thought then that they would best be served as a main course for a lunch or small dinner. The next day, for lunch, I found that one pepper and a toasted slice of Irish Soda Bread (posted earlier) were perfect.
The peppers are eaten cold or at room temperature – very convenient for serving. BUT many cooks will find them tedious to put together. There is the trimming of the peppers, oiling them, dicing the pepperoni, and the carefully placing of shaved garlic and capers. The prep may seem too time consuming for what appears to be a simple offering, but I will make them again for they are unique, and tasty.

| | | |
| --- | --- | --- |
| Sunny Baked Peppers with Tomatoes | | Print |
Author:
Taken from the Parade Magazine (20??)
Ingredients
THIS MAKES MORE THAN IS PICTURED
3 red bell peppers
3 yellow bell peppers
¼ cup extra-virgin olive oil
12 oz. pepperoni, thin as for pizza, cut into fragments
3 cloves garlic, thinly sliced
24 ripe yellow cherry tomatoes
24 ripe red cherry tomatoes
2 to 3 tablespoons drained tiny capers
1 to 2 T. fresh thyme leaves.
Coarse salt and freshly ground black pepper, to taste
½ cup balsamic vinegar, for serving
Instructions
Preheat the oven to 425.
Cut the bell peppers in half lengthwise.
Carefully remove the core and seeds.
Oil a large, shallow baking dish.
Arrange the peppers cut-side-up.
Brush the pepper with oil.
Arrange 1 oz. diced pepperoni on the bottom of each pepper.
Place 4 very thin garlic slices in each pepper.
Place 4 red cherry tomatoes in each yellow pepper half.
Place 4 yellow cherry tomatoes in each red pepper half.
Sprinkle 4 or 5 capers and some thyme in each.
Drizzle each with ½ t. of olive oil.
Sprinkle with salt and pepper.
Bake for 35 minutes.
Cool to room temperature.
To serve drizzle lightly with balsamic vinegar.