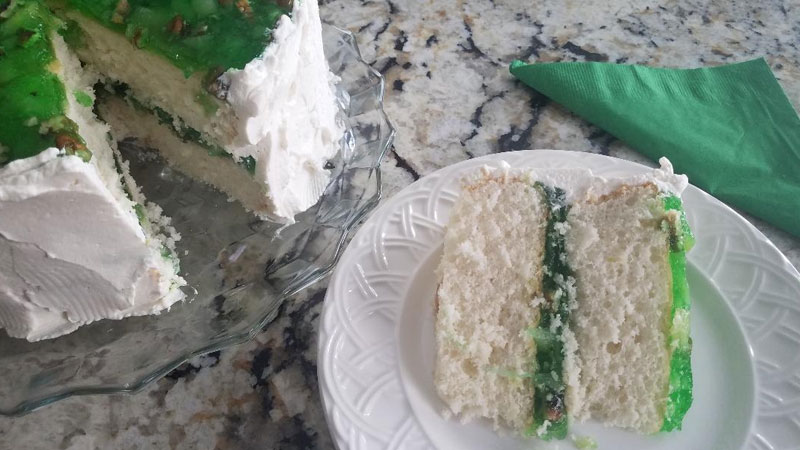 This is a lovely dessert, light and refreshing. It is perfect for March 17th, St. Patrick's Day, but it is even per-fect-er for serving on a hot summer's day. For it is a refrigerated dessert. So when served, the cake is cold, and the gelatin filling seems even colder. I first made this cake when we lived in town, in our first house. It was 1971, and cost us $16,000. Eight years later we sold it for $36,000. Not bad.
This cake is made with a box mix. I find white box mixes to be lighter than I can manage to make. I have found that a box mix is greatly enhanced by freezing the layers while still slightly warm. Doing so seals in the moisture. I usually make my layer cakes a few days before needed so that I can freeze them.
It is not necessary, but I like to double the gelatin filling for this cake. It makes 4 cups, I only use 3 of the cups for the filling. I give my husband the extra cup. He thinks it is delicious, that's because it is! Enjoy!

| | | |
| --- | --- | --- |
| Lime Ribbon Delight | | Print |
Ingredients
1 white cake mix
1 cup boiling water
3 oz. lime flavored gelatin
½ cup chilled fruit juice or water
½ cup, chilled, drained, crushed pineapple
¼th cup chopped nuts
Few drops of lemon juice
1 cup chilled whipping cream
¼ cup confectioner's sugar
1 t. vanilla, scant
Instructions
Make cake according to directions.
Bake in 9-inch layer pans.
Cool completely.
Remove cake from pans.
Pour boiling water over gelatin in bowl
Stir until gelatin is dissolved.
Stir in fruit juice.
Chill until slightly thickened but not completely set.
Stir in chilled pineapple, nuts and lemon juice.
Return to refrigerator.
Place 2 strips of aluminum foil, 2 to 3 inches wide, in each pan.
Extend foil over edges of pans.
Place a cooled cake layer in each pan.
Place one layer right side up.
Place other layer upside down.
Spoon gelatin mixture evenly on the layers.
Refrigerate four hours.
Close to Serving Time:
In chilled bowl, beat cream and sugar until stiff.
Add vanilla, beat.
With extending foil strips, lift cake out of the pans.
Stack layers gelatin side up.
Frost side of cake with whipped cream.
Refrigerate.