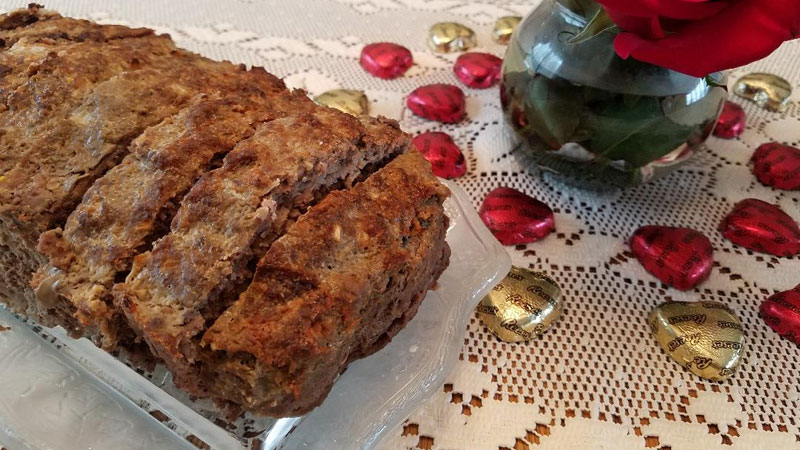 Sometimes a person was beholden to a storm of snow and ice. With our last storm, I was that person. Small group was planning to meet at our home on March 7th, but because of the storm the meeting was postponed to the 14th, Valentine's Day.
When the meeting was cancelled, I thought, I have all the ingredients for making my never tried recipe, so I'll make it for Ron and me. I must have made a mistake when I copied the recipe down. For the meatloaf was TERRIBLE. I practically love meatloaf, but that one was so bad, so bad, that I dumped it into the garbage. The proof of just how bad it was – is that my husband, who can eat anything, did not stop me! The thought of nearly serving it to guests made me shudder! "Thank you, thank you, dear Michigan snow and ice!"
So, on Valentine's Day, I used my standard recipe, the one pictured. It came from a collection of 1970's Kraft recipes that arrived through the mail, a few pages every month. It was actually a recipe for the meatballs in a French Meatball Stew.
Sometime I'll share the stew recipe with you, it is unique and delicious.

| | | |
| --- | --- | --- |
| Just Plain Meatloaf | | Print |
Author:
Kraft Meatball Recipe - Revised
Ingredients
2 pounds ground beef, 80% lean - 20% fat
2 eggs
1 cup chopped onion
½ cup Italian bread crumbs
½ cup whole milk
2 teaspoons
½ teaspoon pepper
3 strips of bacon, optional.
Instructions
Combine first 7 ingredients; mix well.
Place in a bread loaf pan.
Optional - add three strips of bacon on top.
Bake at 350 degrees for 1 hour, or longer,
For appearance sake, remove bacon after 45 minutes.
Makes a dense meatloaf.